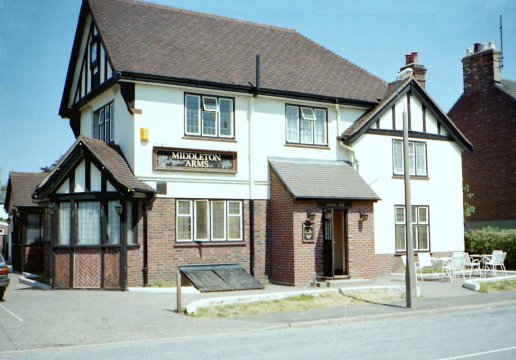 July 1991
Messrs Lacons opposed the granting of a licence 9th February 1934 saying that within a five hundred yard circle of the site there were seven licensed houses, being five full licenses and two beerhouses, three of the full and one beerhouse belonging to Steward & Patteson.
The Rev. T. W. Mason said that S&P were trying to replace a miserable house and a super-miserable house by one in a fine residential area.
It was heard that there were already 200 houses built in the area and erection of a further 120 were planned within the next six months. This would mean supply of the the needs of thirteen or fourteen hundred persons.
The new house would in no way depreciate the value of the property in the district or interfere with the religious and moral welfare welfare of the people.
The new building was budgeted at £3000.
After a lengthy retirement, the Chairman announced that the Justices had granted the application.
Provisional licence granted 02.02.1934
Final licence granted 18.12.1934
(Upon removal of licence from the
EARL GREY
, High Street and surrender of the
LUCKNOW TAVERN
, St Peters Street)
Damaged by enemy action during WWII
Renamed the MARINERS COMPASS c2007