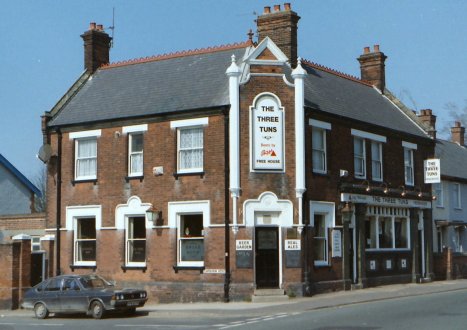 April 1996
Named the
TUNS
in 1819 and in the 1891 census.
Application was made at the Brewster Sessions 24.08.1901 for removal of licence to new premises to be built 35 yards along the road. Building costs for the new house were given as £1400. The Licensing Committee recommended the application, but the Bench voted 7 for and 7 against, so confirmation was refused.

At the Licensing Session Tuesday 2nd February 1904 it was heard that the new premises had been completed and it was confirmed that the provisional order of removal would be dated 1st March 1904.

The licence of the LORD COLLINGWOOD was given up, c1905,
in consideration for a (full ?) licence for this house.
Closed 1942 - it is assumed for the duration of the war.
No mention yet found if closure was due to damage by enemy action.
Entry No 189 in Licence Register