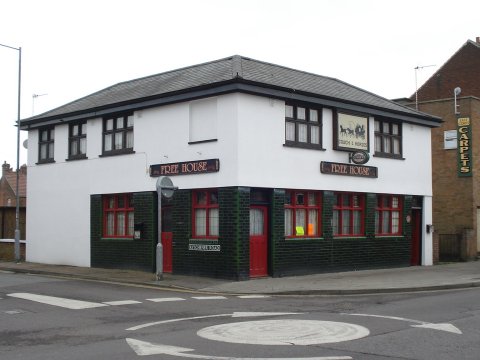 North End 1854.
19 Caister Road 1871
126 Caister Road 1886
Caister Road 1861, 1869, 1875, 1879 & 1883.
George Kerrison arrived in Yarmouth from Liverpool in August 1857 where he posed as a Crimean Hero who `had never clinched from his post throughout the campaign.' Attired in the garb of a sailor he had paid special attention to the local landladies, telling them that he had a Golden Deposit of £490 in one of the local banks, some had loaned him between 5d and 5s. At the house of Mrs Thurlow he had consumed a pint of beer, subsequently returning and stealing a towel. Constable Covell had apprehended him whereupon the accused claimed it had been given to him and he had put it to his bosom and inadvertently forgotten it. Kerrison was sentenced to six months' hard labour.
For Sale by Auction Wednesday 22nd July 1914 upon the instructions of the Executors of the late Mrs. Maria Hammonds. A fully licensed Inn and Wine Shop.
House demolished by enemy action according to a letter dated 11.08.1941.

House reopened 02.08.1944.