Licensees :
ROBERT WILLIAM HALL
20.07.1883
CHARLES GEORGE APPLEBY
11.04.1887
WILLIAM NEAL
22.08.1887
EDWARD WATKINS
28.07.1890
JAMES PEARMAN BOUCH
12.10.1891
Fine on 25.07.1907 of 2/6 plus 6/- costs for selling to children.
ALBERT BOOTY
23.07.1932
ANTHONY DEREK WILLIAM CARROLL
23.07.1956
ERNEST ARNOLD AKERS
02.10.1961
- 1977
MALCOLM LINDSAY
late 1970's
-
-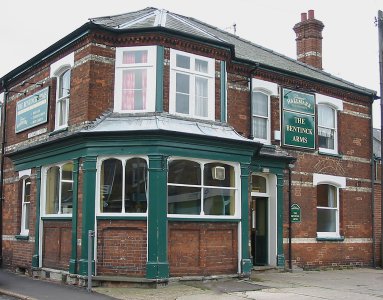 November 2002 - Image by Paul Selwood.

Lord Bentinck was Member of Parliament for the Borough of Kings Lynn 1828 - 1848.

The Bentinck Dock opened in 1883.

New licence granted 20th July 1883 for premises at
Paynes Land, North End.

Opened as the NEW HOTEL, Cresswell Street.
later the BENTINCK ARMS.
The

BENTINCK HOTEL

by 1903

Music licence renewed Monday 29th February 1904.

It was confirmed at the Brewster sessions Monday 12th February 1912 that the house held a music licence. This was renewed at the Sessions held 11th March 1912.

Morgans sales for 1960 were:-
224 barrels of beer
74 spirits.

By 1999 trading as the

BENTINCK ARMS

.