Licensees :
-
WILLIAM KNIGHTS
by 1868
CHARLES KNIGHTS
30.03.1874
SARAH ANN KNIGHTS
c1884
ROBERT WILLIAM CURSON
13.04.1885
JOHN WILLIAM RINGWOOD
27.07.1908
GEORGE WILLIAM THOMPSON
05.04.1909
ALFRED BAKER WITHERS
(Brother of Ada Withers)
03.01.1916
ALICE MARY WITHERS
05.07.1920
ERIC HAWKSLEY
Married Ada Withers
02.02.1925
ADA & ERIC HAWKSLEY
c1964
-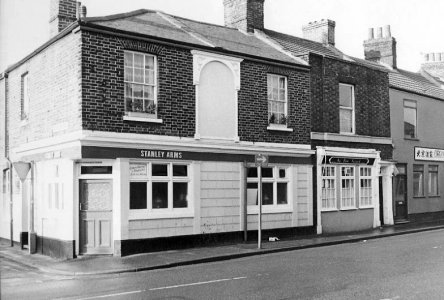 1982 image by David Apps
©
.
(In 1982 the landlord also ran the
CRYSTAL PALACE
in Railway Road - Can you confirm his name? He was apparently also a member of the Kings Lynn Camera Club.)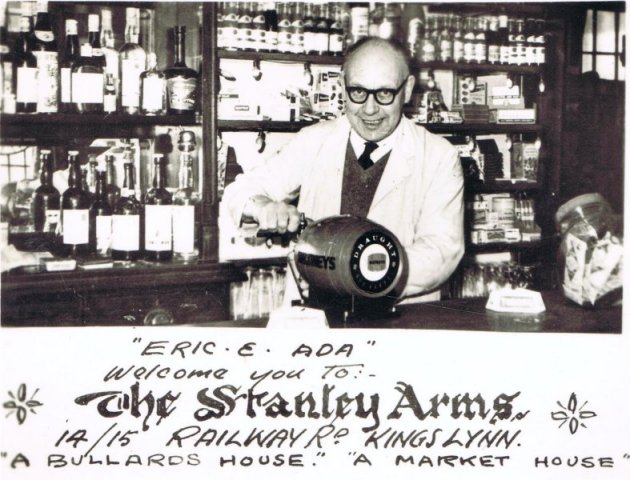 Image thanks to Andrew Duncan, ggrandson of Frank Withers, who was father of Ada Withers and landlord of the GREYFRIARS TAVERN.


Address as 15 Railway Road in Whites 1883 directory.
Market Day extension granted 1956.
Morgans sales for 1960 were :-
114 barrels of beer
74 spirits.