Licensees :
-
WILLIAM GRIFFITHS
October 1780 - 1789
ESAU CANNELL
1794
-
-
-
SAMUEL JULER
1834 - 1837
JOHN LEMMON
Age 35 in 1841
& farmer 1846
1840 - 1846
JAMES FOWLER
age 29 in 1851
1850 - *1851
CHARLES HINCHCLIFFE
1854
WILLIAM LEMMON
1856
EDMUND HARRISON
Age 60 in 1861
1858 - 1863
JAMES HARRISON
& hay and straw dealer
1864 -1869
ALFRED MARK KNIGHTS
*1871 -1877
JARVIS MICHLEY
13.05.1878
PLEASANCE MICHLEY
01.09.1890
BENJAMIN JOHN BARBER
18.01.1892
PLEASANCE BARBER
03.05.1897
BENJAMIN JOHN BARBER
13.05.1901
JAMES WILLIAM WRIGHT
12.09.1904
ROBERT KNIGHTS
07.11.1927
Fine £2 plus 8d costs for selling out of hours - 18.11.1929
JAMES WAITES
30.11.1931
EDWARD JOHN ALLEN
11.06.1945
to 1973+
MARGARET & JIM PROBERT
1986 - 1989
.
ADA MARY WILLIAMS
by 2005
-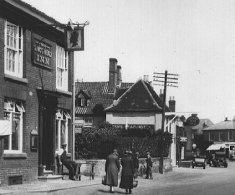 c1930
Recorded in Register of Blofield, Taverham & Walsham Hundred licensed houses taken 9th September 1789.

Lot no. 29 in sale of John Days, St Martins Brewery, 11th October 1794 - a Leasehold property.

Samuel Juler announced 27th September 1834 that he had taken possession of the Inn and fitted it with good beds and a selected assortment of Wines and Spirits.
The Petty Sessions for hiring and retaining Servants would be held at the Inn on Tuesday 7th October 1834.

Lot 8 in sale held Saturday 30th May 1835 upon the direction of the proprietor Mr. Howell along with properties in Norwich (Heigham, St Martin at Oak, St Peter Mancroft, St Gregory & St John Timberhill), Hellesdon and Wymondham.
Lot 9 was a Genteel Dwelling-house, used as a General Shop, adjoining the Kings Head. At the back of Lot 9 was a Capital Malt Office in full trade, capable of wetting 20 coombs, with Mill-house, Kiln and Store Chambers and being the ONLY outlet for malt in the area, carrying on a lucrative trade.

Part of the effects of Mr. Juler were offered for sale Thursday 28th September 1837 since he was changing his situation. The sale included much of his Household furniture, 13 fat Sheep, a Black Colt of three years old, a single barrel Gun and other items.

~

On the 8th February 1845 it was reported that there was evidence of and Elephant being housed in the stables of the KINGS HEAD, Acle.

There was information preferred by Samuel Dawson of St Martin's at Place, against Mr William Manders, a man in the employ of Mr Hylton, the proprietor of the perambulating menagerie, charging him with having, on the 21st inst, at Acle cruelly beaten and ill treated an elephant (the same formidable creature whose recent indignant repulsion of certain inglorious overtures, had well nigh led to an abrupt termination of his engagement, and separation from his colleagues.........Mr Stacey, however, said he was anxious to hear the case..........as his long residence at the Presidencies of Bombay and Madras, where he himself had owned several elephants, would enable him to judge the propriety f the course pursued.....James Brook of Acle disposed that on the evening of 21st January, he saw Manders leading the elephant from the arena to the KINGS HEAD stables and that he was prodding him with a pitch fork. He did not observe any blood, and in fact did not like to go too near him...........Manders described the circumstances of the animal's escape from the van whilst in this city, and stated that it had been found necessary to chain him. A chain was put round the off leg, and by drawing the chain through the ringle, the legs could be completely fettered.

~

Property of Charles Crawshay by 1888.
Freehold property sold by Youngs, Crawshay & Youngs Partnership to Youngs, Crawshay & Youngs Company, for completion 1st February 1898.
Following negotiations between the Licensed Property Valuer and Bullards & Sons, the new rating assessment of £200 p.a. was agreed 6th September 1962. This was against the originally proposed valuation of £240 p.a.


House awarded Asset of Community Value status March 2013.

See p69 `The Norfolk Broads In Old Postcards' - Basil Gowen. pub. 1990