Licensees :
-
-
SUSAN HOPKINS
Age 60 in 1841
Died Q4 1843
1836 - 1841
Miss SARAH ULPH HOPKINS


(Age 47 in 1861 - by then wife of Stephen Chapman)

1845 - 1846
STEPHEN CHAPMAN
& carrier
age 41 in 1861
Died Q3 1864 ?
1851 - 1865
WILLIAM DURRANT
& ironmonger 1871
1868 - 1884
Fine of £5 on Monday 22nd August 1870 for drawing beer on the third Aldborough Fair day.
JOHN SUFFLING
03.11.1884
ALFRED JARVIS
14.10.1901
WILLIAM FLOOD
27.07.1908
ADELAIDE FLOOD
11.09.1916
WILLIAM FLOOD
(not in Licence Register)
(1915 - 1922)
ROBERT WILLIAMSON
24.07.1922
Fine £1 plus costs of £1/9/2d for selling to a person under 18 years old.
05.08.1925
ARTHUR JAMES ANDREWS
20.10.1930
ROBERT EDWARD RANDALL DENT
05.10.1931
ALFRED ERNEST HENRY LEE
11.12.1933
EDWIN SHEPHARD
15.05.1934
ALFRED ERNEST HENRY LEE
20.08.1934
CECIL LEVERETT (manager)
1937
ERNEST SIMMENS
22.11.1937
ALFRED ERNEST HENRY LEE
03.08.1938
GEORGE ARTHUR BUTCHER
12.11.1945
WILLIAM H HOWARD
01.04.1946
EDWAIN SAMUEL RISEBROW
05.08.1948
ARTHUR PERCY TURLEY GODLEY
09.05.1949
ARTHUR GARNETT BRETT
04.04.1955 -
to c1982
-
ANDY HICKS
to Apr 2018
GARY BUMPHREY
Aug 2018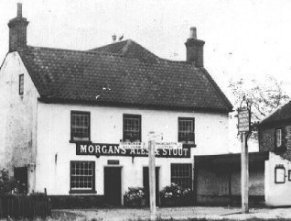 c1950
The effects of John Barron, late blacksmith of North Walsham, deceased, were to be distributed to his Representatives at a gathering here Wednesday 28th February 1781.
According to Mary Hardy's diary, Mr William Hardy went to Holt on Monday 22nd December 1783 and purchased the Black Boys public house for the sum of 100 Guineas, paying the Lord of the Manor £14 and the Steward 3 Guineas.


At the Licensing Session held Monday 22nd August 1870, Mr. Durrant was reluctant to pay the £5 fine imposed upon him for drawing beer on the day of the Aldborough Fair. The magistrates refused to grant renewal of his licence until the matter was settled, so he paid, but seemed exceedingly loath to part with the money.


Sales 1961 of 89 barrels of beer & 60 spirits.

Well worth finding according to 1976 North Norfolk Guide.
(And still the case)