Licensees :
THOMAS ALLEN
1689
THOMAS LUBBOCK
1722 - 1730
THOMAS CLARKE
1731 - 1733
FRANCIS MOSEY
1736 - 1746
WILLIAM RAYNFORTH
1747 - 1763
JOHN ANDREWS
1764 - 1779
WILLIAM WETHERELL
1780 - 1782
ROBERT WETHERELL
1783 - 1789
Mrs WETHERELL (widow)
1790
ROBERT DYE
(Robert Day 1791)
1790 - 1797
ELIZABETH DYE
1797 - 1806
GEORGE BACK
1807
Mr. C. OVERTON
1819
DAVID DUCKER
1822
PETER RIX
1825
HENRY RIX
1826
JOHN DAVY
1830 - 1834
John Davey, Innkeeper assigned his assets to Trustees 17th October 1834 for the benefit of his creditors
WILLIAM CUTTING
Age 40 in 1841
1836 - 1843
RICHARD SMITH
& farmer
& horse dealer
by 04.1844 - 1846
PETER RIX
January 1850
JAMES EBDEN
age 40 in 1851
1850 - 1853
SAMUEL MULLENGER
Went to ROSE INN, Norwich October 1855
1854
WILLIAM PUNCHER
(Died Q2 1876 - age 61)
1856 - 1872
THOMAS MARTIN DICKERSON
1874 - 1881
BENJAMIN BOWYER
1882
MARY BOWYER
1883
SAMUEL NOTT
(According to White)
1883
JAMES MOORE
1888
WILLIAM PASHLEY
beer & cider merchant
Age 52 in 1901
1890 - 1904
ALFRED DYBALL
1906 - 1911
GEORGE RICH
1912 - 1915
ROBERT FRANCIS
1916
BERTIE VICTOR MOBBS
1919 - 1920
B Mobbs was charged 14 January 1919 of GAMING - `To wit card playing for money' (namely Whist is crossed out in register).
The case was dismissed 28 January 1919
WALTER FRANCIS HOGG
10.02.1920 - 1923
WILLIAM MELONIE
by 02.1925
EMILY LOUISA MELONIE
14.04.1925
JOHN ISAAC HART BOWGEN
04.08.1928
WALTER WILLIAM MONEY
11.09.1928
ALFRED ERNEST HENRY LEE
12.02.1929
WILLIAM CRISP
13.08.1929
STANISLAUS GEORGE SCRUTTON
18.10.1932
NELLIE EVA ALEXANDRA SCRUTTON
05.02.1935
ALFRED ERNEST HENRY LEE
09.06.1936
GUY ALEXANDER McINTOSH WILLS
19.09.1936
ALEXANDER WILLIAM WILLS
14.09.1937
BLANCHE G WILLS
19.12.1939
ALFRED CHARLES GRIMBLETON
(Tony Eggleton according to Aylsham Inns & public Houses)
12.02.1947
ROBIN CHESTER FOREHAM
also found as ......... Rabin
17.09.1950
GEOFFREY EDWARD THROWER
known as `Captain Thrower'
12.05.1953
GERALD JOHN JONES (Jerry)
09.09.1958
WILLIAM J LACEY
05.09.1961
DEREK A TWAITE
04.12.1962
- closure

An inn by 1689

The several Creditors of John Andrews were requested to send their account to Mr. James Curties of Aylsham, before the 13th November 1779. All those indebted to Mr. Andrews were desired to pay their Debts immediately, to prevent further trouble.

A Main of Cocks, the 4th in a series of 6, was held here Monday 18th and Tuesday 19th April 1782. The Gentlemen of Norfolk had won two of the previous three matches against the Gentlemen of Suffolk. Each Battle to be fought for Four Guineas and Twenty Guineas the odd Battle. Twenty seven Mains and eight Byes on each side, and to fight according to the Royal Articles.

In March 1791 William Parmer announced that his coach, the AYLSHAM DILIGENCE set out from the inn every Wednesday and Saturday morning, to the Maids Head, Norwich.
A complete Hearse was also to let from the Inn.

Peter Rix, late of Swanton Morley, informed the Nobility, Gentry and the Public in general, 9th April 1824, that he had taken the Inn.

To let January 1829 with Immediate Possession.
As the DOG INN 1830

Offered to let with early possession, June 1849.
`Capital Stabling and excellent Bowling Green attached, now in full trade - Apply at Mr. Crawshay's Brewery, Norwich.

Peter Rix, late of Swanton Morley, announced 19th January 1850 that he had taken the inn. His stay could not have been for long since the Hunt directory for 1850 gives James Ebden as licensee.

The DOG INN ESTATE was offered for sale by Auction on Tuesday 11th December 1855 in FIVE Lots.
Lot 1 - The North part of the DOG INN consisting of an entrance passage, a parlour called the Coach-room, kitchen, bar, wash-house and larder with good wine and spirit cellar under. Five bedrooms with attics over. A small back yard with fowl houses and firing shed; a capital stable with five stalls and two loose boxes, with an open standing for carriages. The Lot having a frontage of 28ft 9in to the Norwich to Cromer Turnpike.
Lot 2 - The Principle Entrance to the DOG INN, a comfortable Commercial-room and a Porter-room, with good Beer-cellar; a staircase, landing and water closet; an upper sitting-room and bed-room with attics over; and part of the yard with pump therein and two coach-houses or stables with hay-loft over. The Lot having a frontage of 32ft 8in to the Turnpike.
Lot 3 - A large room called the Court-room, 34ft by 25ft, used for assemblies, courts and clubs, with attics over and two stables under; also part of the yard adjoining.
Lot 4 - A six-stall stable and four-stall, with hay-loft; a lean-to loose box opening into a small yard and part of the yard in front of the stables.
Lot 5 - A valuable piece of Land used as a Bowling Green, with summer houses and bar-room; part of the yard adjoining Lots 2 and 4 and a strip of land next to the Turnpike road, used as a horse-yard. The whole having a frontage of 102ft 6in next the Turnpike road and containing about 55 rods.

28th March 1874 - Proprietor Thomas M. Dickerson advised the Gentry and Public in general that the Inn had been thoroughly renovated and offered every Comfort for Travellers and supplied the best Articles.
Sales in 1960; Barrels of beer 109, Spirits 94

Ceased trading 27th October 1965.
Premises to be offered for sale an de-licensed.
Reported closed since last meeting of October 1965, at Property Rationalisation Committee meeting on Domestic Closures, 2nd February 1966.
~
Bertie Mobbs applied to the Special Sessions, held at Aylsham Town Hall on Tuesday 10th February 1920 for his licence to be transferred to Walter Francis Hogg. Mr Hogg had previously operated as a Boarding House Keeper in Margate, Kent.
The notification, dated 15th January 1920, is shown below.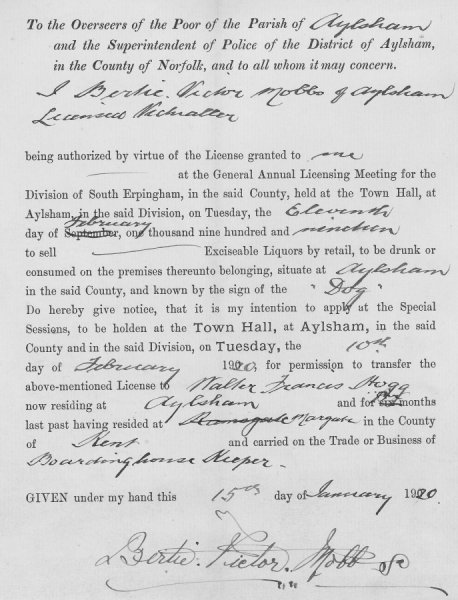 ~
Geoffrey Edward Thrower, licensee 1953 to 1958 was known as ` Captain Thrower', especially in the lounge bar as he had just retired from the Royal Marines with the rank of Captain. The lounge bar was named the Kennel and had a cuckoo clock which suffered terminal damage from Young Farmers target practice with the soda syphon.
(Information thanks to his son, also Geoffrey Thrower - July 2009)