Licensees :
-
JOHN ALLEN
1700
WILLIAM RANNELLS
1723
THOMAS DIX
1730 - 1737
ALICE DIX
widow
1762
AUSTIN WATTS
(Austin Wall 1791)
1771 - 1805
WILLIAM WEAVER
1820 - 1822
-
JAMES BUTLER
1830
WILLIAM LEGOOD
1836 - 1839
HANNAH LEGOOD
(Ann Legood according to Robson)
1839
JOHN CHAPMAN
age 51 in 1851
& butcher & carrier & farmer 30 acres
1841 - 1854
GEORGE CLARK
(Died March 1875 - age 75)
1854 - 1863
JOHN CHAPMAN
See below
here 09.1963
ROBERT OSBORNE
1864
JOHN COOPER
Age 52 in 1871
1864 - 1871
CHRISTMAS STAPLETON
1872 - 1877
MILES AUGUSTUS BAKER
& veterinary surgeon
1877 - 1883
EDWARD WOODHOUSE
1883 - 1900
FREDERICK WILLIAM SOLE
Age 32 in 1901
17th April 1900 - 1901
MILES HALL
1904 - 1921
RICHARD ROBERT BONE
by 1925
CUTHBERT BEDE SMITH
Brewery Rep.
02.02.1926
ARTHUR LLOYD JONES
Brewery Rep.
31.12.1929
THOMAS BAKER JONES
12.06.1934
THOMAS EDWARD SLIPPER
15.09.1936
ALBERT MURTON
also found as Albert Martin
13.09.1938
WILLIAM M SMITH
died February 1972 - House Closed
17.07.1956
- 1972
It was reported 5th September 1863 that John Chapman had missed a pair of cart springs and a set of scroll irons. The items were subsequently found buried in the garden of Zephaniah Smithson, with cabbages planted over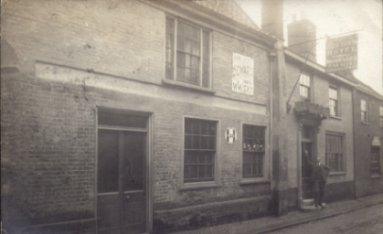 1906 - showing Primrose (Trunch Brewery)

A Red Lion is referenced in Aylsham from 1700.

Advertised as Family & Commercial Hotel.

7th October 1820 - William Weaver informed his friends, Commercial gentlemen and the Public in General that he had re-fitted up the Inn and made such alterations for their accommodation. He offered Good Beds, Excellent stabling, Neat Wines and Foreign Spirits. Music would be provided for Quadrille parties and Assemblies.

Advertised For Sale by Auction, to be held Saturday 15th July 1854, the Proprietor retiring from the public line of business.

Offered for sale September 1854, the Proprietor, Mr. Chapman, having taken a farm, was desirous of declining the public line of business.

For Sale by Auction August 1867, unless disposed of previously by Private Contract. Then in occupation of John Cooper.

Licensee Miles Hall was reported to the South Erpingham Petty Sessions 6th February 1920 by Deputy Chief Constable Welcome William Basham. On the 6th February he had `unlawfully permit intoxicating liquor, to wit, Whiskey, to be consumed on his licensed premises during such hours as prohibited ...'. No record of any penalty yet found.

Edward Woodyatt, brewer of Trunch was accused of drinking the whiskey out of hours
and was fined £1

TRUNCH Brewery to 1952 when purchased by MORGANS.

.Sales 1960 were Beer - 188 barrels : Spirits - 57

Closed by Watney Mann (East Anglia) Ltd 29.02.1972
following the death of William Smith.
Note : Captain Richard Beard is mentioned at the house 1930 to 1936.
He is presumed to be a manager since his name does not appear in the Licence Registers at this house (Previously at the Black Boys).