Licensees :
JOHN FREEMAN
(age 47 in 1851)
& stone & marble mason
(Died Q4 1868 - age 65)
1839 - 1865
JAMES LING
11.10.1866
to at least 1872
Mrs JAMES LING
1873 - 1874
RICHARD LAXEN
Died Q3 1878 - age 37
1875 - 1878
ANNE FRANCIS LAXEN
1878 - 1879
ROBERT BULLOCK
& harness maker
1879 - 1890
WALTER DIXON
1890 - 1891
WILLIAM HERBERT HAMMOND
1892 - 1893
ERNEST ALFRED EASTOE
& clog maker
19.05.1896
(Licence transfer during 1897 to unknown recipient. - Possibly to Mr. Lancum)
HERBERT LANCUM
1900
Fine and costs totalling 5s on Tuesday 4th August 1900 for selling out of hours.
ALBERT RICHARD PRIOR
age 38
1901
WALTER ROBERT NEAVE
1904
JOHN U TINKLER
1908
GEORGE OLIVER
age 60 in 1911
1911 - 1922
Fine of £5 for selling out of hours - February 1920 - see opposite.
ARTHUR KERRY
1925
HERBERT JOHN SARGEANT
08.06.1926
GEORGE WILLIAM AUSTIN
13.09.1927
ERNEST WILLIAM DOCKING
15.11.1932
DONALD W DYBALL
07.10.1958
Mrs IRENE DYBALL
04.05.1971
JOHN CAINCROSS (Jock)
18.09.1975 - 1995
PAULINE HAGON
1995 to closure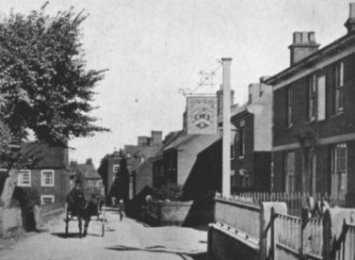 c1908

On 29th April 1853, cordwainer Edward Bartram fell asleep in the house. In court on Wednesday 29th June, 44 year old James McGowen was found guilty of stealing a purse, containing 15s 6d from Mr. Bartram as he slept.
Upon sentencing Bartram to six months' imprisonment with hard labour, the Chairman refused to award any expenses to Mrs. Freeman since she had been warned that a man was in her house, drunk, asleep and liable to be robbed.
The Chairman also said that he would recommend the district magistrates to discontinue the licence of the house. (This seems not to have resulted in a loss of licence)

~

On Sunday 26th August 1900, Police-constable Crane discovered the front door shut, but not locked, at 11:30am. Inside he found the landlord, Mr. Lancum and James Beck, landlord of the UNICORN, each had a glass of beer before them. Beck claimed that he had come to borrow a bottle of whisky. There was some dispute as to if the beer had been given freely by Mr. Lancum or if Beck had paid for it.
On Tuesday 4th August 1900, the Bench believed the beer had been paid for and fined each party 1s and 4s costs.

~

Youngs, Crawshay & Youngs posted (10 October 1908) a Postal Order to the value of 10/- to this house, addressed a Mr C Hall, stonemason. The money was to pay Miss E M Bartram for use of her well.

~

Deputy Chief Constable Welcome William Basham informed the Magistrates 12th February 1920 that George Oliver, on 6th February 1920 .....did unlawfully permit intoxicating liquor to wit, Beer to be consumed on his licensed premises during such hours as prohibited...
Fine £5

Postman Walter Whitwood was fined £1 for consuming beer, during such hours as were prohibited.

~

For sale Spring 2001
Threatened with permanent closure.

Converted to a private residence.