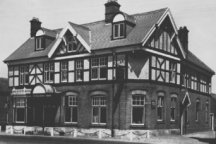 c1960
All Persons indebted to, or with Claims or Demands on the Estate and Effects of Robert Wall, deceased, were requested to settle their affairs with the Executors - 11th May 1803.
Lot No. 79 in sale of Coltishall Brewery 14th - 17th September 1841.

Purchased by Morgans Brewery of Norwich 1895
Bernard Streten, landlord from 1958 had previously been a goalkeeper for Luton & England football teams.
Sales 1960 were 184 Barrels of beer & 118 Spirits.
Obtained by Steward & Patteson 1961 when Morgans estate divided between S&P and Bullards. S&P later carried out structural alterations which were completed August 1967.
Sold 1985 and closed.
Demolition threatened June 1998.
DEMOLISHED by end of 1998