Licensees :
-
-
ROBERT WATTES
1794
-
JAMES MARSHALL
1836 - 1850
SHARMAN PAYNE
age 54 in 1851
1850 - 1851
BIRCHAM & PARMENTER
1854
JAMES CURTIS
1856
GEORGE WOODHOUSE
1858
ROBERT NEWMAN
*1861 - 1863
ROBERT NEWMAN junior
1865
WILLIAM THURSTON
& agricultural labourer
(William Thirston 1871 & 1872)
1869 - 1872
WILLIAM DEARY
(William Durry 1877)
1875 - 1877
JOHN BANYER
& farmer
1878 - 1904
EDWARD LARTER
1908
ERNEST GEORGE SEARLES
1912
ROBERT HENRY PLEASANTS
1916 - 1925
ANNA MARY PLEASANTS
by 1927
ROLAND ROBERT TUDMAN
14.05.1928
ELSIE ELIZABETH TUDMAN
04.02.1952
FREDERICK HENRY BROWN
06.02.1961
RUSSELL TALBOT
12.02.1979
-
JO & NIKKY .......
January 2012
-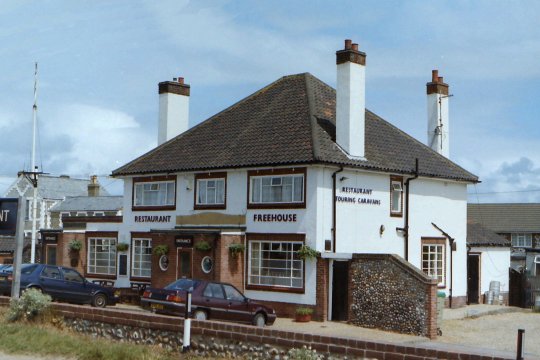 1995

Lot No. 80 in sale of Coltishall Brewery 14th - 17th September 1841.
Then described as `lately re-built. in a substantial manner, of brick and stone'
The building consisted of :- Parlour, Bar Cellar, Kitchen, Pantry, Club-room, large Dining-room, three Bed-rooms, and three lean-to back rooms. A LOFTY FISH-HOUSE (divided into two rooms), Cooperage and Warehouse, cart-shed, Stabling for six horses, Wash-house, and a paved Yard enclosed by folding Gates.

Offered For Sale by Auction Wednesday 11th September 1850, late in the occupation of James Marshall and then of Sharman Payne.
With Fish-house, Warehouses, Stable, Cart-shed and other Outhouses.
Also a large Yard, Drying Ground, Garden and Skittle-ground adjoining.

Lot No. 19 in sale of Reepham Brewery Saturday 8th June 1878.
Then let to John Banyer at nominal rent of £8.00 p.a.
Property described as:
A Flint built House comprising, Good Tap Room, Bar & Parlour, Cellar & Pantry, Five Front Bedrooms; also a Private Sitting Room, with Separate Staircase; Paved Yard in rear in which is a Wash House, several Storerooms & Cart Lodge; Stable Yard at side of house with Detached Stable & Skittle Shed; Also a Large Garden behind the whole with Beet House.
The Freehold was purchased by BULLARDS.
Rebuilt c1930
Offered for sale January 2012
`Prominent freehouse less than 50m from the sea....
......2 trade areas and well equipped kitchen serving 90 covers with large garden and 20-25 parking spaces'.
Closed and a private dwelling by 2016