Licensees :
-
DANIEL CARVER
1789
-
WILLIAM CLARKE
1829
JOHN CLARKE
Also given 1839 by Pigot
1830
WILLIAM CLARKE
age 65 in 1841
1835 - 1841
CHARLES ROBINSON
1845
JAMES SMITH
1846
GEORGE ALDERSON
(age 30 in 1851)
& master bricklayer
(Wife Elizabeth died Monday 12th January 1852 - age 27)
1850 - 1863
GEORGE WAKE
to September 1864
Licence refused Tuesday 6th September 1864
WILLIAM PITCHERS
& dealer 1871 - age 39
& general dealer 1881
& pig farmer 1883
1865 - 1892
WILLIAM LEONARD SELF
1896 - 1897
ARTHUR HENRY BUSH
& butcher 1901 - age 28
1900 - 1908
EDWARD THOMAS LOOME
1912 - 1915
HERBERT BARTON
1916 - 1925
MAYNARD ARTHUR BUSH
& butcher
1929 - 1937
.... MAIN
c1962
Mr & Mrs F W SEXTON
1967
..... GLENISTER
post 1967
MICHAEL SMITH
c1980 - 03.1990
-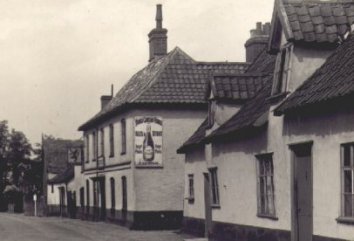 1935
The subscribers of the Banham Horse Association met here, the house of William Clarke, on Thursday 29th October 1829 and again, on the same day, 1835.
On 15th February 1856, a cat, the property of George Alderson, jumped into the 30ft deep well. A skep was let down for her and drawn up, but when nearly at the top, the cat jumped out and went down again. On the evening of 20th February it was heard by somebody passing the well and was retrieved alive.
No change recommended at First joint meeting of Bullard and Steward & Patteson's Committee 29th May 1962.
Beer sales 1961 given as 155 barrels.
A private dwelling by 2007