Licensees :
-
THOMAS PARSTON/ PARSONS / PEARSTONS
& grocer & carpenter
Age 42 in 1851
(Thomas Parston 1841, Parsons in 1845. In 1841 he is living at Hellington Corner in the house of carpenter Samuel White .)
First identified as a Beer Seller in 1845
Thomas Pearston died Q2 1863
*1841 - *1861
LYDIA PARSONS
(age 58 in 1861)
*1864
THOMAS PARSONS
*1865
Mrs ELIZABETH PARSONS (?)
*1869
LYDIA PEARSONS
age 68 widow
1871
Mrs PARSONS
*1872 - *1877
LYDIA PEARSTON
Named at the Bell, age 78, widow.
(Died Q1 1892 - registered in Loddon)
1881
CHARLES JOHN HARVEY
1883 - 1885
GEORGE EDWARD HARVEY
*1888
JAMES PRESTON
age 55 in 1891
(died 1913)
1890 - *1901
FRED PRESTON
age 44 in 1911
1904 - 1916
ARTHUR ROBERT BLYTH
1922 - 1929
THOMAS DOUGHTY
1933
EDWARD STANLEY KEELER
1937
-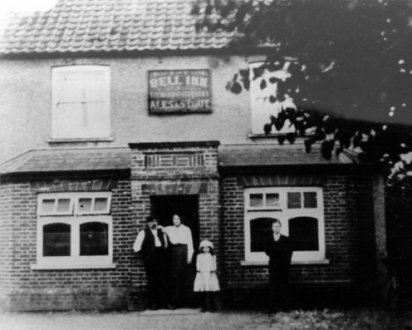 c1920 image thanks to Graham King
The Enclosure Award & Map of 1806 shows no buildings on this site.
The Tithe Map of 1839 shows Lord Abergavenny's allotment sold and divided into the main old divisions at Hellington Corner that still exist.
Two buildings are shown parallel to the Loddon Road

Thomas Pearston is recorded only as a carpenter in the 1851 census.
Age given as 42. Wife Lydia Pearston is aged 49 and daughters are Lydia (17), Selina (14), Anna (10) and Harriot (8).
Address is By Hellington Corner - so probably at this house.
Steward & Patteson sales in year prior to closure
were 45 3/8 barrels of beer.


See the TROWEL & HAMMER

Many thanks to Graham King for update. 03.2010
& to Bunny L H for further investigation.