Licensees :
-
-
THOMAS PEAPES / PAPES
& bricklayer
age 40 in 1841
1836 - 1841
SAMUEL WITHERS
* 1845 - * 1846
ROBERT EVERITT / EVERETT
age 49 in 1851
*1851 - 1861
ROBERT SMITH
age 39 in 1871
Died Q1 1895 - age 63
* 1863 - * 1892
SUSAN SMITH
age 66 in 1901 (?)
Died Q3 1906 - age 75
1895 to 1906
JOHN SMITH
Died Q2 1927 - age 59
05.11.1906
HARRIETT SMITH
04.07.1927
ALBERT COUCHMAN
(Died Q2 1962 - age 70)
07.11.1927
PERCY SHEPHERD
Brewery representative
undated
(1959 ?)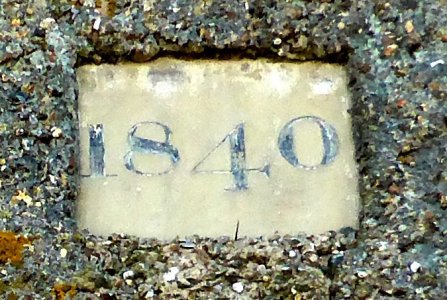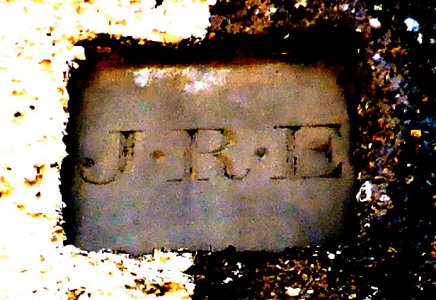 House bears a date stone of 1840 and another stone with the initials J. R. E.

No mention of fate of house in Licence Register but sold to a private buyer in 1959 to be a dwelling house.

Mr. Couchman went to the CHEQUERS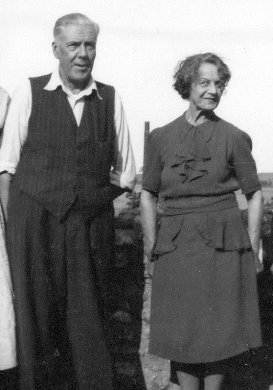 October 1957 - Mrs & Mrs Couchman.
Image thanks to Gus Ives - who advises :-

The attached photo shows the landlord and his wife of The Black Horse, Binham taken in October 1957.
Mrs Couchman, nee Platten, was my fathers cousin. She was born in Glandford, Norfolk in about 1886 and met Albert in Croydon where they married in 1914.
I lived with my parents in Norwich and earlier in 1957 my parents bought their first car (a 1934 Hillman). This gave my father the opportunity to try and find some of his long lost relations in Norfolk. My father obviously knew that he had a cousin in Binham so a trip was taken to try and find her.
I remember going into the pub - there was no bar counter and people (predominantly men or possibly all men) were sitting around the perimeter of the room. I seem to recall that all conversation stopped as we entered the room.
A man - who turned out to be the landlord asked what we wanted to drink and having taken our order disappeared through a door in the far corner of the room and returned with our drinks on a tray. All customers were served the same way in the pub. My father asked him if cousin was there to which his response was a gruff "Who wants to know?". Once my father explained that he was the ladies cousin he immediately softened and went to get her.
We did not go there very often - maybe two or three times at the most. I remember that the landlord and his wife telling us that the brewery were going to close the pub and that the brewery had given him two options. One was to buy the freehold of The Blackhorse (at a very good price I imagine) the other was to take on The Chequers. I understood that was what he intended to do. Unfortunately we did not go there again so I do not know what happened.