Licensees :
-
JEREMIAH HOLDEN
& wheelwright *1861
& farmer *1871 - age 65
(Recorded as carpenter in 1841)
Died Q2 1885 - age 79
*1845 - 1885
Convicted of drunkenness during the year ending September 1865.
Application for full licence refused 05.09.1865 and again 03.09.1867
Mrs MARY ANN HOLDEN
& grocer
age 74 in 1891
Died Q3 1895 - age 78
1885 - *1892
GEORGE ROBERT RODWELL
1896
JESSE HART
beerhouse keeper & agricultural labourer in 1901 - age 52
*1900 - 1904
JAMES GARWOOD
Went to Diss GREYHOUND by 1912
At E. Harling WHITE HART by 1916
*1908
CHARLES ASHFORD
Age 57 in 1911
1911 - 1912
JOHN GODDARD
1916
HARRY THOMAS BAILEY
*1922 - *1925
EZWELL BECKETT
1929 - 1937
-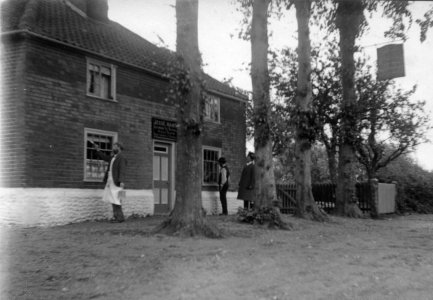 c1904

A fine collection of customers c1890
Image thanks to Geoffrey Leigh.

Application by Jeremiah Holden for a spirit licence refused 1863 and again Tuesday 6th September 1864.

Freehold property sold by Youngs, Crawshay & Youngs Partnership to Y,C&Y Company for completion 1st February 1898

Address also as Low Road, Fen Street or Bank & Fen Road.

~
Geoffrey Leigh advises, July 2009 :-


The bar was the room on the left of the picture and the entrance was a door on the side of the building. There wasn't a bar as such the beer was brought from a store room at the back of the house probably in jugs from barrels kept on the trestles. The only seating was wooden benches around the walls of the room. There was outside seating and an area for playing quoits.
Up until Youngs, Crawshay and Young bought the pub it was called the Fen Beer House (it is right opposite Blo' Norton Fen) and was run by the owners who had other occupations such as smallholders, poultry dealers etc. Mrs Holden sold it to YCY, when I suspect it got too much for her several years after her husband died, in 1894 or thereabouts. From then on it was called The Case is Altered because it has altered from being independent to part of a brewery.