Licensees :
-
JAMES BROOM
* 1836
JOHN BROOM
age 50 in 1851 & master carpenter
(died Q3 1860)
1841 - 1858
CHARLOTTE BROOM
age 49
1861
ROBERT THURTLE
age 44 in 1881
* 1864 to 1886
JOHN FELGATE
age 57 in1891
17.05.1886
WALTER ROBERT NEAVE
age 30 in 1901
01.07.1895
HENRY REEVE
30.09.1901
JAMES REMBLENCE
07.11.1904
ARTHUR GILBERT RAYNER
08.05.1905
JAMES SEAMAN
05.11.1906
JOHN PRESTON
02.11.1908
FREDERICK WILLIAM SYMONDS
age 48 in 1911
17.05.1909
Fine £2 plus 4/- costs or 14 days detention, for being open during prohibited hours - 26.01.1914
JOSEPH COLK
01.02.1915
ARTHUR HARVEY SPRATT
10.04.1916
GEORGE KENT
19.11.1917
HERBERT A WRIGHT
12.11.1923
Fine £2/0/6d for selling out of hours - 04.07.1927
BERTIE A SUTTON
13.02.1928
GEORGE ELLIS
04.11.1929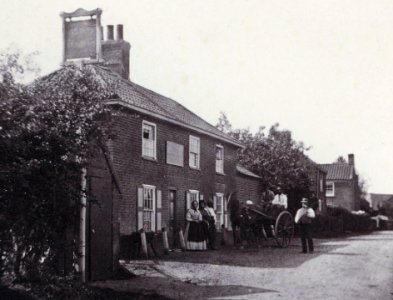 c1895
Image shown with permission of
Norfolk County Council Library and Information Service


Annie Neave, wife of Walter William Neave, was charged at Blofield Petty Sessions 21.01.1901 of assault on farmer Henry Plow.
The assault was said to have taken place on 10th January 1901.
Henry Plow said that `within 10 minutes of him coming in she had called him everything bad, at the same time using disgusting language.' `She came out of the kitchen.....and threw the contents of a glass of beer over him, and then the glass, striking him on the back of the ear and cutting him severely, the wound was to the bone.'
Mrs Neave said that she had thrown the beer and the glass had slipped from her grasp and had landed on the floor unbroken.
The Bench dismissed the case.
The licence was removed to the TWO FRIENDS, Blofield Corner 14.03.1930