Licensees :
-
?
1782
ELIZABETH DOWNING
1789
WILLIAM POPEY
1794
Mr. BANE
(Went to Kings Head ?)
1831

A coaching inn.

An auction was held here 31st October 1782.
Auctioneer James Garthorn sold 4 Tenements in Beighton,
in the occupation of William Fowler and others....

~
In 1826 the road from Norwich to Gt Yarmouth traversed three T junctions in Blofield. By 1836 a new road had been completed to avoid three sharp turns.
Lacons closed the Griffin and built the Kings Head at
one end of the new road.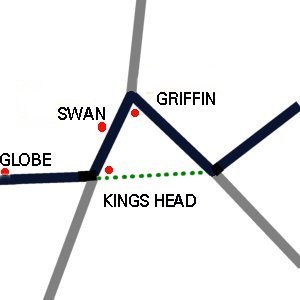 Offered for sale by auction Thursday 16th June 1831.
` All that Dwelling House, butchers shop, gig-house, granary, four-stalled Stable, Coal-house, and large walled-in Yard, situate in Blofield street, and lately occupied as a Public-house called the Griffin, by Mr. Bane.
Considerable frontage next the Old Turnpike Road to Yarmouth.