Licensees :
-
THOMAS WRIGHT
1784
-
-
SAMUEL KETTLE
(Died Q2 1844)
1836 - 1839
JAMES MALLETT
age 30
(died Q4 1841)
1841
MARY MALLETT
age 25 in 1841
(Married Thomas Brigham Q2 1846)
1842 - 1845
THOMAS BRIGHAM
& farmer
1846
ANTHONY GIRLING
1850
WILLIAM GIRLING
age 36 in 1851
*1851 - 1854
ROBERT CRICKMORE
1856
WILLIAM GIRLING
& brewer
1858
WILLIAM GOBBETT(?)
& painter & glazier
age 38
1861
GEORGE SRYKE
& cabinet maker
1863
WILLIAM GIRLING
1864
JAMES PATRICK
1865
CHARLES GRIMMER
1868
HENRY PRIME
1869
DAVID BRETT
Age 38 in 1871
1871 - 1872
SAMUEL VALIANT
& watchmaker
1875 - 1877
GEORGE GOWING
& colt breaker & farmer
Age 33 in 1881
1879 - 1883
JOHN CHARLES POLLARD
Age 45 in 1901
1888 - 1901
JAMES GOODWIN
Age 46 in 1911
1904 - 1916
GEORGE STRUDWICK
Died Q1 1951 - age 75
1922 - 1951
GEORGE STRUDWICK junior
16.02.1951
ROBERT CHARLES LEEDER
05.04.1957 - 1967+?
Closed 1975
HELEN & DAVE DEDMAN
1982 - 2004
Mr N ASTON
07.2004
Mr C KELSEY
12.2005
-
Closed 2014
JONATHAN TOWNLEY
02.2015
Thanks to Mr N Aston for the update 01.01.2006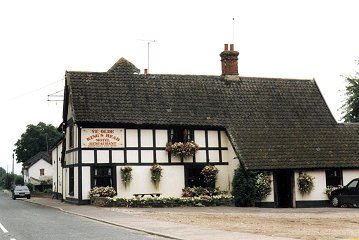 1998

Dates from 1400

Offered for sale, September 1784 - Freehold. Described as the KINGS HEAD FARM with Public House and some 69 acres of Arable and Pasture Land. In occupation of Thomas Wright, an unexceptionable tenant, at £70 per year, with an agreement due to expire at Michaelmas 1787.

On Wednesday 24th June 1857 The Kings Head Farm and the Kings Head public house were offered for sale by auction by direction of the Trustees of the late Benjamin Leeder. The Farm of some 68 acres being in occupation of Thomas Brigham and the public house with about 7 acres of pasture land, in occupation of the undertenant of the same Mr. Brigham. Notice to quit at Michaelmas had been served on both properties.

For Sale by Auction Friday 23rd August 1867 with about Six Acres of very productive Meadow Land adjoining.
Closed 12.05.1975 under Watney Mann (East Anglia) Ltd.

Reopened ..... (by 1982)

Closed by Summer 2014.

Reopened February 2015.