Licensees :
-
STEPHEN STEPHENSON
*1835 - 1841
JOHN SMITH
& carpenter
age 41 in 1851
1841 - 1851
ROBERT DOWNES
& farmer 20 acres
Age 43 in 1861
1854 - 1861
JOHN STEVENSON
1863 - 1864
ROBERT BROWN
1865
WILLIAM BROWN
1868
ROBERT DOWNES
06.11.1868 - 1869
DAVID A CHILVERS
Age 26 in 1871
*1871 - 1872
JOHN SCOTT
1875
ALEXANDER ABON
Age 36 in 1881
(Died Q1 1885 - age 38)
1877 - 1881
WILLIAM SAUNDERS
according to Kelly
(Died Q2 1884- age 78)
1883
JONATHAN CADAMEY
according to White
(Died Q2 1901- age 53)
1883
JAMES BREEZE
Died Q1 1890 - age 53
1888 - 1890
Mrs EMILY BREEZE
age 56 in 1901
(Died Q2 1916 - age 63)
1891 - 1908
GEORGE GODFREY
Died Q3 1915 - age 63)
1912 - 1915
Mrs SARAH GODFREY
1915 - 1925
ARTHUR THOMAS BUNTING
1929
ERIC B SMITH
1933
ERNEST HERBERT FOX
(Died Q1 1951 - age 67)
1937
-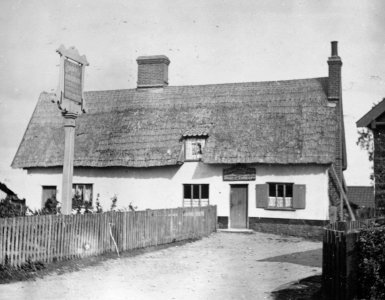 Crown & Anchor
1897 image from the collection of the late Percy Rush.
Shown with permission

CROWN BEER SHOP 1840 & 1841
ANCHOR - 1845. 1846, 1854, 1856, 1865, 1869, 1875 & 1877
CROWN & ANCHOR 1888, 1933, 1937
On Tuesday 28th February 1893, Emily Breeze, of the ANCHOR INN, charged Samuel Daines of Bunwell of refusing to quit her house and of an assault.
Daines, his brother and other men had quarrelled and all were asked to leave the house. As being turned out, Daines had violently pushed the door back, causing Mrs. Breeze to suffer a severe blow to the eye.
For refusing to leave the house, Samuel Daines was fined £1 1s 9d and a further £1, and costs, for the assault.