Licensees :
-
WILLIAM BALLARD
(as Bellard September 1782)
Pitt Arms 1789
1782 - 1794
ELIZABETH BULLARD
1794
JOHN HOWARD
January 1795
RICHARD WARD
1822 - 1823
ROBERT SPARK
(It was reported 25th February 1832 that Matilda Spark, age 32, daughter of the late Mr. Robert Spark, formerly of the Hoste Arms Inn, had died the previous week)
1830
ROBERT SPARKES / SPARKS / SPARK
age 57 in 1851
& postmaster 1845
& 100 acre farm 1851
1832 - 1854
GEORGE FELTWELL
(died Q1 1870 - age 62)
1856 - 1870
BENJAMIN POWLEY
age 42 in 1871
1870 - 1872
Non specified proceedings are reported in Norwich Court against Benjamin Powley 21st August 1872. See opposite.
CHARLES JAMES BALES
July 1873
GEORGE SPALDING
1875 - 1877
STEPHEN GEAGEN
& coal merchant & GNR carrier 1883
age 39 in 1881
1879 - 1890
GEORGE RIVETT
age 46 in 1891
1891 - 1900
ROBERT HALES
(age 49 in 1911)
1904 - 1908
JOHN WHARTON WOMACK
age 60 according to 1911 census
(died 1912 - age given as 63)
1910 - 1912
Mrs MARY ANN WOMACK
age 53 in 1911
1912 - 1925
WILLIAM HALL
1929
HARRY BATTERBEE
1933
HENRY JOHN GOODWIN
1937
WALTER ALFRED BEALES
by 1949
IAN BADEN POWELL DRAKE
27.11.1950
BERTHA AMELIA DRAKE
08.06.1964
JACK ERNEST LITTLE
10.01.1965
to at least 1975
-
-
PAUL WHITTOME
1989 - 2010
JEANNE WHITTOME
2010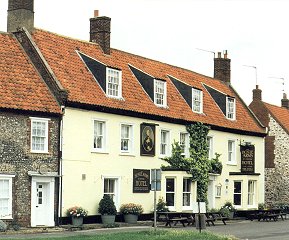 1997

Built c1550

Known as the PITT ARMS c1700
PITT's ARMS in 1795 & 1871

Elizabeth Ballard, widow, announced 12th March 1874 that she would carry on the business of her late husband.

John Howard, late of the WHITE LION, Holt, announced 17th January 1795 that he had taken the PITT's ARMS.

Renamed 1811, after Captain Sir William Hoste.
(One of the captains under Lord Nelson
and one time owner of the Sandringham Estate.)
Parson Woodforde stayed 12th September 1787 and recorded the innkeepers name as Ballard.
Conveyed between Edward Everard and Richard Sands in a conveyance dated 4th March 1856. The Jolly Farmers at North Creake was also included in the transaction.
In a notification published 24th December 1870, Benjamin Powley announced that he had taken the Inn, but would still be carring on his business as Brewer and Innkeeper at the THREE HORSE SHOES INN, Roydon.

It was reported 6th September 1873 that following the bankruptcy of Mr. Powley, the house had been closed. At the July 1873 Sessions the licence had been transferred to Mr. Bales. On Saturday 30th August, the award of a licence to Mr. Bales was opposed by the representative of Eyres & Co. who had a lease on the property until Michaelmas. Messrs. Bullard had offered to pay £15 per month to Eyres & Co, up to the expiry of lease, but Eyres sought payment of 8s 6d in the pound, on the debt that Powley owed them.
The Bench interceded in the argument and confirmed the licence.
Lynn Advertiser 3 May 1912
The death occurred at his residence, The Hoste Arms Hotel, on Tuesday of Mr. John Wharton Womack. He came to Burnham at Michaelmas 1910 and has been in ill-health for a considerable time. He was 63 years of age, and the second son of the late Mr. John Womack of North Lopham. Previous to coming to Burnham, Mr. Womack was licensee at East Harling. He leaves a widow and five daughters and two sons for whom much sympathy is felt.
Very popular and has many recommendations for fine food.
Accommodation also provided.
Map ref : TF8342
Thanks to Rosie Flower 05.01.2008 for the update