Licensees :
CLEMENT POSTLE
1836 - 1839
CHARLES GIBBS
age 73 in 1851
Died Q4 1856
1845 - 1856
Mrs FRANCES GIBBS
age 69 in 1861
1856 - 1861
WILLIAM PRATT
& bricklayer
died Q1 1864
1863 - 1864
GEORGE SARGENT
1865
WILLIAM BUSTON
age 55 in 1871
1868 - 1871
RICHARD FELSTEAD
1875
GEORGE PORRITT
& cattle dealer
1877
RICHARD FELSTEAD
age 36 in 1881
1879 - 1881
JOSEPH HEWITT
1888
GEORGE FEEK
age 40 in 1891
1890 - 1896
( Licence transfer dated 15th May 1898 to unknown recipient. - Possibly to Mr. Newport )
ALBERT NEWPORT
age 36 in 1901
1900 - 1901
( Licence transfer dated 17th June 1902 to unknown recipient. - Possibly to Mr. Hunt )
PETER GEORGE HUNT
1904 - 1916
SIDNEY H TERRY
1922
WILLIAM FREDERICK BEAVIS
1925 to 1931
GEORGE RAYMOND NEAL
06.10.1931
JOHN HARRY HOLLIS
09.10.1951
RONALD & NUALE WILDERS
08.10.1968
- 1973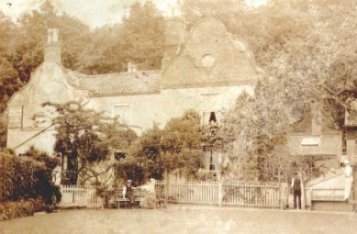 1908
For sale by Private Contract in advertisement dated 23rd September 1837, freehold.
Three nearby Tenements included in sale along with Outhouses, Yards, Gardens, Bowling Green and Meadow adjoining the river Bure. All together about 4 acres. In the occupation of Clement Postle and others.

Offered for sale again, by Auction Saturday 27th July 1839, Clement Postle still in occupation, but with notice to quit, Michaelmas ( 29th September ).

~
18 hole putting green advertised 1938.
Morgans sales listed for 1960 as Barrels of beer 127, Spirits 171.

See page 13 of The Norfolk Broads In Old Postcards, by Basil Gowen, first published 1990