Licensees :
Sarah Bobby (Ship)
1836
SAMUEL GILLINGHAM
age 35
*1841
JOHN TYLER GODFREY
age 41 in 1851
& boatwright, gang proprietor (8 men)
(Tyler Godfrey 1854)
Died Q1 1859
1845 - 1858
ELIZA GODFREY
Age 64 in 1881
(Died Q2 1881)
1861 - 1881
WILLIAM REID
(given at SHIP 1883)
Age 59 in 1891

1883 - 1894
JETHRO BOYCE
1896
THOMAS EDWARDS
Age 36 in 1901
& bargeman
1899 - 1901
Fine of 6s and 4s costs Monday 13th June 1899.
See opposite.
GEORGE BRIGHTON
Age 58 in 1911
& boatbuilder
1904 to 1922
Fine of 44 shillings October 1910 for serving during prohibited hours.
FRANK FELIX HARRISON
16.07.1922
PERCY REGINALD JUFFS (?)
24.07.1922
ARTHUR HUBERT SUTTON
05.01.1925
ARTHUR TOLMAN
(Arthur TOTMIN in Kellys 1933 & 1937)
04.01.1932
ROBERT CHAPMAN
12.07.1937
JOHN WILLERS GLASSCOCK
(Died Q4 1948 - age 68 ?)
02.02.1942
JAMES REGINALD TURNER
04.10.1943
-
19.01.1948
Mrs PAULINE THORNLEY
1977
-
-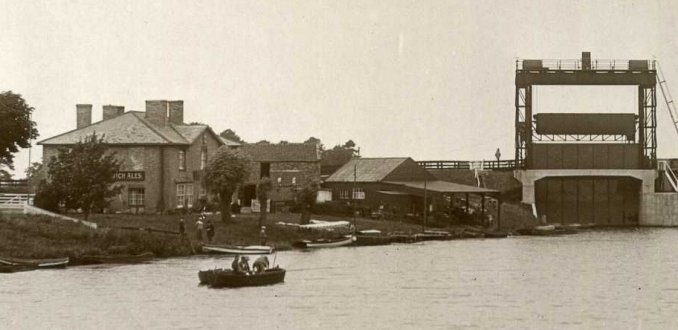 Jenyns Arms and sluice gates c1930

Appears as the SHIP 1836 to 1883, but also as the JENYNS ARMS from at least 1845.

Part of the building was used as a tollhouse for waterway passage.

On Sunday 28th May 1899, Police-constable Cooke discovered Philip Pitcher, Thomas Firmage, Jonah Ambrose and William Shipp in the house at 4 o'clock in the afternoon.
On Monday 13th June 1899, licensee Thomas Edwards and his four customers all pleaded guilty. Edwards was fined 6s and 4s costs whilst the others 1s and 4s costs each.

October 1910 - P.C. Chambers testified that from the position he was hiding, he observed a man enter the back door at 7:40am on Sunday 25th September. Entering the premises the constable found George Brighton with some beer. The landlady said it was very hard that the policeman should watch the house. The constable said that the house was difficult to supervise and he had previously observed people leave during prohibited hours. He had also seen people leave when under the influence of drink, the last occasion being Good Friday. Fine of 44s including costs.