Licensees :
-
WILLIAM SMITH
by 1789 to 1812
Mrs SMITH widow
to October 1812
CHARLES WILTON
(Blacksmith 1841 - no mention of beer - age 58)
*1836 - 1840
DENNIS BENDALL
1845
JOHN CHAPMAN
age 58 in 1851
1846 - 1856
JOHN CLARKE
age 66 in 1861
(Wife Susan died 9th June 1866)
1858 - 1866
THOMAS CLARKE
age 61 in 1891
(Died Q3 1908 age 78 ?)
1869 - 1896
EDWARD ALFRED LOCKETT
Age 35 in 1901
1900 - 1902
CHARLES SHEPHERD
22.10.1902 - 1905
GEORGE CATTERMOLE
Age 32 in 1911
went to Diss GREYHOUND
1908 - 10.1914
GEORGE SMITH
(As reported 16th October 1914)
14.10.1914
FREDERICK CHARLES SMITH
1916 to 1933
WILLIAM ERNEST MILLS
11.01.1933
RICHARD PATON MARSHALL
by 1958
NOEL HODGES
by 1964
-
-
-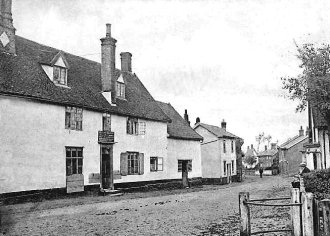 c1904


Included in September 1789 Diss Hundred Register.

For Sale by Auction Tuesday 26th May 1812.
In occupation of Mrs. Smith, widow, who had notice to quit, Old Michaelmas 1812. (10th October)

For sale by auction Monday 14th September 1812 with Barn, Stables and other necessary outbuildings, blacksmith's shop and several inclosures of most excellent arable and pasture land, by estimation more or less forty acres. With possession from Michaelmas.


Susan Clarke, wife of John Clarke of the Kings Head, Dickleburgh, died Saturday 9th June 1866.

Messrs. Adnams applied to the Magistrates Wednesday 8th March 1911 to do away with the existing cellar and provide extra storage at the rear of the building. Police Superintendant Southgate said that it would not make the premises more difficult to supervise and had no objection to the proposal. Approved.

Police-constable Nightingale visited the house in plain clothes on 11th July 1928 and observed two men in the cellar with licensee Fred Smith. The time was seven minutes past four in the afternoon and the house should have been closed. Half pint glasses of beer were in view but Smith said that none had been drunk, they were a treat for his guests and there was no payment involved. One of the `guests' was a Dickleburgh resident, a retired Colonel by the name of James. He confirmed that no beer had been drunk.
Since there had been no previous complaint against the landlord the magistrates were unwilling to record a conviction and said that would be the case if he paid costs. The others were fined 5/- each, including costs.