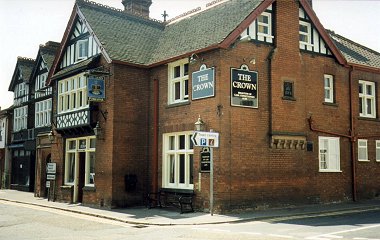 July 1996
Mr Alecock advertised the house available to let, with immediate possession, since he was about to retire - 27th August 1836.
On the night of Saturday 21st November 1863, the premises were broken into. The following morning it was discovered that one bottle of brandy, one of cloves and one of whiskey had been taken. Police-sergeant Boutell at once suspected the under-ostler at the Crown, William Harrison. Comparing his boots with footmarks in the yard, under the window that had been broken to gain entry, they were found to match exactly. Harrison was committed to trial at the next assizes.
Rebuilt 1878
On Wednesday 27th November 1907, William
Tobel
Peskett, was charged with allowing two dogs onto the highway without collars and the owners name inscribed thereon. The dogs were in fact harrier hounds, the property of Mr. S. Hillwood and as puppies, were being in the charge of Mr. Peskett for the purposes of `being walked'. It was argued that pack hounds were exempt from the regulations regarding collars. The Bench disagreed in this case and fined Mr. Peskett 1s.
A presentation was made at the Crown Hotel on Wednesday 19th October 1955, to Mr. and Mrs. A. Chalkley, who left the hotel to live in Norwich.
Mr. Chalkley was a former West Ham United footballer.
Advertised as a Family & Commercial Hotel in early 1900's.