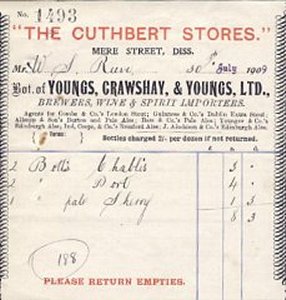 A 1909 invoice to Mr. S. Reeve.


On Wednesday 13th May 1885, the licence was transferred from Mr. Joseph Pennington to Mr. Alex Haylett.

Licence transferred from Mr. A. C. Haylett to Mr. George Scoulding on Wednesday 23rd September 1865.

Licence transferred to Bertram Nichols on Thursday 25th August 1955.
At the same time the licence of the BREWHOUSE was also transferred to him.

Henry Cuthbert operated as a maltster and wine & spirit merchant
until his business was purchased by Youngs, Crawshay & Youngs.
In 1879 he is described as a maltster & merchant at Mere Street.
By 1883 he is trading from Victoria Road and the Railway Station.
The Cuthbert Stores in Mere Street is then run by Youngs, Crawshay & Youngs with Joseph Pennington as manager.
In1888 & 1890 Mr Cuthbert is still at Victoria Road, where he is described as Maltster, corn, coal, cake, and hop merchant.
In 1890, the Cuthbert Wine & Spirit Stores is under the management of Mr George Scolding.
The property is described as Freehold in sale documents dated 27th November 1897, when the Y,C&Y Partnership sold to the Y,C&Y Company, for completion 1st February 1898.
Listed as well as the CROWN STORES.
~
A 1937 advertisement states -

Wine, Spirit & Beer Bottlers, Dealers & Retailers.
Fine stocks of vintage & other wines,
Proprietary and other spirits,
Burton Beers, London & Dublin stout.
Depot for Youngs & Crawshay's Norfolk Ales & Stout.

Supplied in Cask and Bottle.
Delivered in Diss & neighbourhood in any quantities.
MERE STREET, DISS

Price list on application
Tel : Diss 84