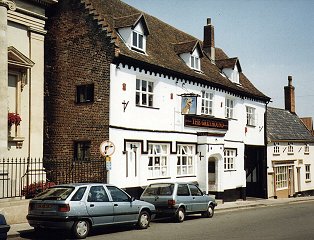 July 1996
An inn in the 15th century.
Possibly then named the
PILGRIM'S INN
Present building probably dates from 17thC.
James I is said to have entertained a lady friend here - her name said to be Anne..

A sale of furniture took place here 24th November 1778.

On the morning of Thursday 20th January 1870 a fire was discovered in a beam running close to the chimney. It had apparently been smouldering for several days and a serious conflagration was avoided, Mr. Easto was however still suffering from the damage three days later. Another report of the fire stated that the heat of the fire in the room had been so great that gas pipes had melted. Luckily the gas had been turned off the previous night

On Wednesday 28th September 1870, members of the Early Closing Cricket Club partook of a supper here. Mr. & Mrs Easto provided a good supper and gave satisfaction to their guests.