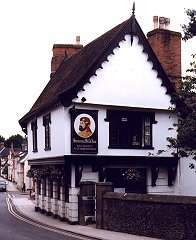 1996
Existed by the 1640's.
For sale by auction 3rd June 1751, then in occupation of Mr. Smith, with Lands, Bowling-Green, Gardens, Orchard, and Appurtenances thereto belonging...
Freehold for sale as advertised 5th April 1779.
Occupant Mrs Mary Marsh, widow.
For occupation at Michaelmas or at any other time most convenient to the Purchaser.
For sale June 1781 with immediate entry. Then in occupation of the Widow Marsh. All Freehold except for a small part of the Bowling Green.
The Household Furniture of Mrs Mary Marsh were to be sold by auction on Tuesday 30th April 1782 at the premises.
Offered To Let July 1816 with possession from Michaelmas. Mr. William Holmes then in occupation.
Apply to Mr. Alston, The Brewery, Cock Street.
The entire contents were for sale by auction Tuesday 21st April 1868 - All the valuable Household Furniture, excellent featherbeds and bedding, trade utensils etc. Also the Out-door Effects, excellent lawn-mower, iron roll, ten pairs bowls and numerous other articles.
On Tuesday 6th September 1870 Mr. Doubleday provided an excellent spread to commemorate the closing of the bowling season. An interesting game had been played and witnessed on the Green, and the evening catering had been accompanied by various toasts and several good songs were sung.
The bowling green survived until at least the mid 1900's, but eventually made way for the adjacent car park and access road.
Today known as the
SARACENS HEAD HOTEL