Licensees :
-
LOVETT / LOVET CLEMENTS
1789 - 1794
-
-
JOHN WHAITE
1822
ROBERT WRIGHT
1830
ROBERT RAVEN
1836 - 1837
Fine of 5s on Monday 23rd January 1837 for allowing men and girls of loose character to frequent his house.
SAMUEL DRANE according to Pigot
(Samuel Brane according to Robson)
1839
SAMUEL STOWERS
age 54 in 1851
1845 - 1854
GEORGE EDWARD WRIGHT
& builder
& builder, wheelwright & market bailiff 1872
1856 - 1872
JOHN NICHOLS
& engineer
1875 - 1900
WILLIAM KING
1901 - 1915
EDGAR CHAPMAN
12.01.1916 - 1929
Wednesday 24th May 1922 - Found guilty of indulging in a gambling game on the bar counter. Observed by Inspector Chambers through a window which was not totally obscured by blinds. 1s 9d was seized from the counter. Otherwise satisfactory conduct of the house allowed Mr. Chapman to be bound over for his good behaviour for 12 months and to pay costs.
ALICE JANE RAMSEY
by 1937
WILLIAM POINTER
by 1967
-
PETER & JAN MILLS
1989 - 16.08.2015
-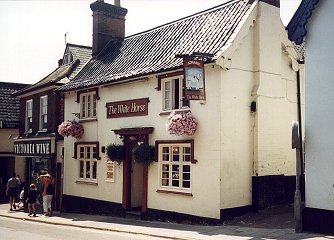 July 1996



Licence not renewed at the Diss Brewster Sessions held Tuesday 14th February 1906. Future of the licence to be determined at the Adjourned licensing Meeting to be held on Tuesday 6th March 1906.


At the adjourned meeting held Wednesday 14th March 1906 it was said that he house was frequented by a rather better class of customer than some other inns. Trade was an average of 34 barrels of draught beer, 109 dozen bottles of beer, 110 gallons of spirits and 4 dozen bottles of wine. Licensee William King agreed that he worked elsewhere but kept at home on Fridays and Saturdays. The smoking concerts held at the house were attended by a respectable class of people and he had a large number of signatures in favour of licence renewal. The magistrates said that only evidence given on oath would be accepted.
Licence renewed.


See p59 - ` Memories of Old Diss' by Dennis Cross, published 1994

Grade II listed building offered for sale August 2012 for £330,000.
Including open plan bar, pool room, ground floor beer cellar, bottle store and small enclosed smoking area behind. Private accommodation of lounge, kitchen, bathroom and four bedrooms.