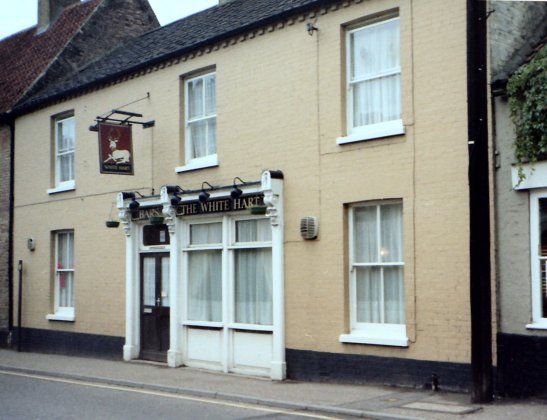 August 1987
Formerly the
WHALEBONE
(pre 1791)
Traded as the
WHITE HART
from at least 1791 to March 2015.
Offered for sale by auction Monday 4th July 1808.
Good accustomed, brick and tiled Public-house situate in Cowgate Street, with Brew-house, Stabling for Twelve Horses and hay-loft over, coal-house, dove-house and every requisite outbuilding, large yard and pleasant Garden adjoining, well planted with choice fruit trees, containing together by estimation 2R (more or less). In occupation of Isaac Bell who has been at the premises for seventeen years and intends retiring from business.
The premises form a desirable situation for the public line, having been occupied as such with full trade upwards of
sixty
years. Possession Michaelmas next. Household furniture, stock in trade, brewing utensils and fixtures are to be taken by the purchaser at a valuation.
A Dwelling-house adjoining, in occupation of Mr. T.D. Paine also for sale.
The above suggests the house began trading in c1748.

~
Mrs Holliday, wife of the licensee, died Friday 5th April 1811.
~
Lot No. 20 in sale of George Morse estate,
held 8th & 9th September 1847.