Licensees :
-
WILLIAM CLARKE
1789 - 1794
-
-
JAMES BUTCHER
& brewer
1836
ROBERT THOMAS
age 42 in 1851
& carpenter
1841 - 1856
HENRY ADCOCK
& farmer 1858
& sheep dealer 1861 - age 36
1858 - 1864
GEORGE BONE
& carpenter
1865 to 1875
CHARLES IVES
02.10.1875
HENRY PYLE
age 38 in 1881
26.01.1878
CHARLES DADE
13.08.1887
JOHN KIRK LEWIS
age 50 in 1901
by 1896
REGINALD HALL
06.06.1903
THOMAS PRATT
20.10.1906
REGINALD HALL
age 35 in 1911
19.10.1907
EDGAR CHAPMAN
04.01.1913
CHARLES WALTER NEVE
(Also licensee at Red Lion)
16.10.1915
GEORGE CARR
02.02.1924
ARTHUR ALFRED WARDLE
(Died 19th February 1984 - age 78)
24.07.1948
-
..... STARBUCK
c1962
JACK SIMPSON
1971
-
-
KIM PAINTER manager
2004
-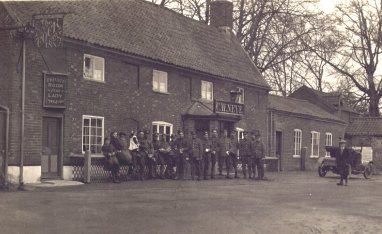 c1916
Recorded
in Register of Blofield, Taverham & Walsham Hundred licensed houses taken 9th September 1789.
Rebuilt on adjoining land 1956
Original house (shown above) demolished.
Extensively renovated 1998/9 by Wizard Inns.
Totally `refurbished, revamped and refined ' by Wizard Inns
during a closure period of March 28th and June 7th 2004.