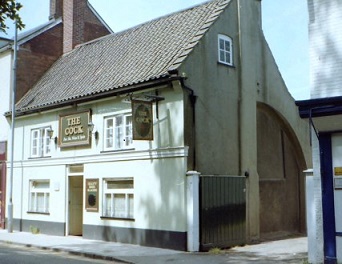 1990
Owned by Samuel Bidwell c1812 and by three ladies who claimed a 1/19th share each.
(Charlotte Wells, ..... Horsley & Frances Wells, spinster.)
The Fakenham Provident Society collected their Quarterly Subscriptions here Wednesday 7th February 1816.
Address also given as Silver Street.
S&P report for Watney Mann (East Anglia) Ltd, prepared June 1969 recommended immediate closure. The advice seems not to have been taken up.
Renamed COCKERS from September 1996
Back to the COCK January 2004
Closed 2010

Trading as COCKERS BISTRO by 2015.
Closed by January 2017.

Re-opened April 2017 as the RUSTY TAP.