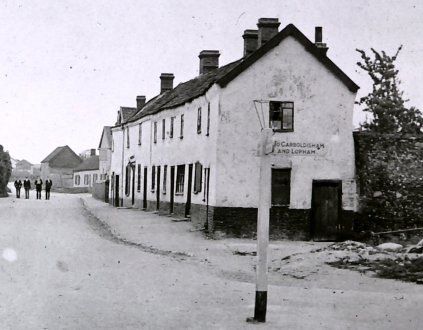 "The sign of the Bell can just be seen at the far end of the line of cottages, Bell Row.

In 1914 most of the water wells of East Harling were condemned.
Tommy Dodd was at the public meeting where he was described as the `best client of the Bell' and teased that he should not worry since he did not drink a pint of water in a year!"
Information thanks to David O'Neale
Subsequent extensive searches have yet to find a
BELL
within East Harling.
The row of cottages may well have been on Bell Row, but it is currently thought that the public house in the distance is actually the
KINGS HEAD
which stood on the Kenninghall Road / King Street.
The reference to a
BELL
, open in 1914 possibly refers to the
BELL
at North Lopham.