Licensees :
JAMES POTTER
age 33 in 1871
1870 - 1872
JAMES RUSH
& farmer
age 66 in 1891
(Died Q2 1907 - age 82)
1875 - 1896
Fine of £10 and 10s 6d costs September 1886. See below
EDWARD WRIGHT
(James Edward Wright died Q3 1908 ?)
1900 - 1902
ROBERT YAXLEY
(Died Q2 1911 - age 77)
by 1903
FREDERICK SHEARS
(Died June 1929 - age 49 ?)
28.09.1908
WILLIAM SUTTON
02.02.1915
SIDNEY CLARENCE SUTTON
(Died 1996 - age 93)
12.08.1946
KATHLEEN & TERENCE BRIAN PARSONS
12.06.1967
.
Police-sergeant Barnard charged James Rush of having his house open for the sale of intoxicating liquors on Sunday 19th September 1886.
On that day at just before 6:00 a.m. the Sergeant and a Constable named Thompson secreted themselves in a wooden hut, the premises of the Great Eastern Railway, about 30 yards from the Great Eastern Hotel. The house was watched until 20 minutes past 12 at noon. During that time 39 people visited the house, it having opened at 7:40 a.m.
Mr. Rush pleaded guilty and had said that he must not let it happen again. In his support, Superintendent Murrell said he had known Rush for 20 to 21 years during which time he had run houses at Whissonsett (BELL), Walsingham (ROBIN HOOD) and now Fakenham. He had always considered Rush to be a respectable innkeeper and had no cause to complain of him.
The magistrates inflicted the highest penalty of £10 and 10s 6d costs, which the defendant immediately paid.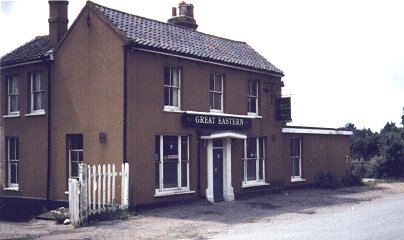 1986

At the Petty Sessions 26th August 1870, an application was made for a spirit licence for the newly opened house. A petition of over 80 signatures were attached to the application and the most excellent testimonials were produced as to the character of the tenant.
Being an exceptional case the Bench granted the licence.


Given as the GREAT EASTERN HOTEL 1937

Demolished c1994 and site used for housing.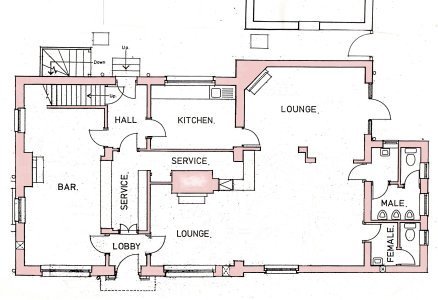 The floor plan - 1986