Licensees :
-
SAMUEL SALMON
1750
-
-
ROBERT WARR
1836 - * 1839
BENJAMIN SCURL age 40 in 1841 age 52 in 1851 age 60 in 1861
Died Q1 1865
* 1841 - 1864
WALTER MORELAND ROSE (& comic & instrumental vocalist 1872) age 31 in 1871
(Died Q2 1888 - age 47)
1865 - 1877
PETER LEECH
1879
BENJAMIN CRISP age 28 in 1881
(Died Q3 1891 - age 39)
1880 - 1888
JOHN EAGLING & farmer (Born John Eagling Herring, South Creake 1835)
age 56 in 1891
(Died Q2 1911 - age 76)
1890 - 1896
THEODORE MERRICK BARNES age 36 in 1901 (Son in law of John Eagling) moved to Reading 21st December 1927
(Died December 1944 - age 77)
by 1900
EDWARD JAMES GALER
28.12.1927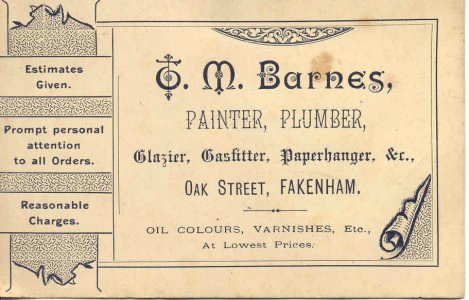 The business card of Theodore Barnes Image thanks to Sue Sobczak June 2009 (Sue is married to a great grandson of T. M. Barnes)
Front Page - Fakenham Post
Friday 23rd December 1927
Old Licensee leaves. In customary and expressive phrase, another landmark in Fakenham is removed by the severance of Mr Theodore M. Barnes from Fakenham, after being licensee of the `Sun Inn', Norwich Street for about 29 years. He is a native of Fakenham, and is the oldest licensee in town, in point of length of service. He and his wife have gone to reside at Reading, to join other members of their family and they removed on Wednesday, this week. He has always been respected and conducted his business beyond reproach.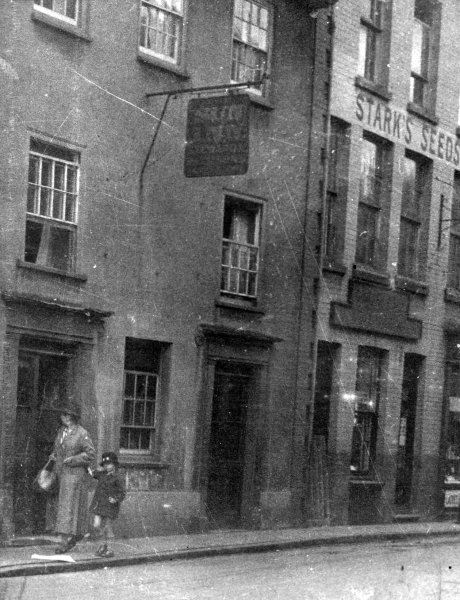 c1910
Image thanks to Sue Sobczak June 2009

To be Lett and Entered upon at Michaelmas next. An ancient and well-accustomed Inn , known by the Name or Sign of the SUN in Fakenham in the County of Norfolk, with Stables, Brewhouse, and other convenient Out-houses, a Garden, and an Acre of Pasture Land lying in the Yard thereto belonging. For further Particulars enquire of Mr. Samuel Salmon, or of Mr. William Stuart Hawys of Fakenham aforesaid.

~

Owned at one time, pre 1800? by Thomas Charlton, brewer. deeds to 1871 show that the house was the property of the Fakenham Brewery until purchased by Steward & Patteson. However the Licence Records show that Greene King were supplying the house before Steward & Patteson.

~

S&P records state that the house closed 1927 and was sold.
The licence registers state that the house was referred to Compensation 20.06.1928 and the licence did not expire until 31.12.1938.



Elizabeth Crisp testified 24th April 1880 that Mrs Stringer was in the house 7th April 1880 and was drunk....and very abusive. Mrs Stringer was to pay a fine of 2/- and 10/6 costs or suffer 14 days detention.




Benjamin Crisp testified against Edward Wright at Fakenham Petty Sessions 17th July 1880.
Wright had been found asleep on the premises at 7:20 am and upon being woken up, accused Crisp of pushing him. Wright threatened to `Punch his bleeding head off'. Crisp was in fear of bodily harm. The defendant said he did not know what he was doing and had suffered a fit. The defendant was to undertake not to interfere with Crisp and not to (leave ?) his house for a month.