Licensees :
-
JOHN SAUL
1794
-
-
JOHN DYBALL
& farrier
(& farmer 1845)
Died Q3 1858 ?
1836 - 1858
ROBERT VINCENT
& carpenter
Age 40 in 1861
1861 - 1883
THOMAS BLYTHE
& farmer & boot maker
1888 - 1896
JOHN HICKS
Age 41 in 1901
1900 - 1901
WILLIAM JARVIS
1904 - 1908
HARRY SIDNEY BUXTON
Age 45 in 1911
Died March 1922 - age 55
1911 - 1922
SIDNEY BROOKS
1925 to 1947
EDWIN JAMES RICHARDSON
(Died June 1971 - age 64)
30.06.1947
JOHN KEDGE
(Brewery rep?)
08.07.1963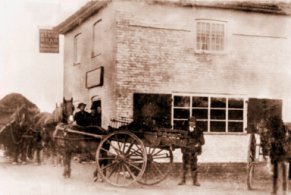 | | | | |
| --- | --- | --- | --- |
| | c1916 | image courtesy of Barry Fagg. | |
Described in 1796 .....
`With a convenient yard, stable and outhouse; Also a small garden and a small pightle of land, containing by estimation about 1 acre. Copyhold to the Manor of Felmingham Hall. Fine certain 7s 6d. Quit Rent 3s 5d.'

It was reported September 1865 that the 1 cwt hearthstone had been noticed to be rising above the floorboards. Getting a bricklayer to lift the stone and investigate, a half bushel of new potatoes, all about the size of hens eggs, were found growing there. Those growing against the brickwork and the hearthstone were flattened to about three inches wide and half an inch thick. It is thought that old potatoes had been deposited there by rats.

Morgans sales in 1960 were:-
38 barrels of beer
21 spirits.
Last licence granted 04.02.1963
Closed 10.05.1963 as recorded in Bullards documents.
Sold soon after closure.

2008 - Recent renovations have found pennies dated 1745 & 1746 and a 1912 Dutch ½ cent from under bedroom floorboards