Licensees :
-
JAMES HARVEY
age 34 in 1851
See opposite.
1851 - 1864
JOHN WATERS
& coal merchant
1865 - 1879
ROBERT KEELER
& coal, coke and oats merchant
(& farmer 1891)
(Address 1915 as Near Church)
1881 - 1900
LEMON KEELER
(Address 1915 as Common)
1904 - 1912
WILLIAM RICE
1915
WILLIAM JOHN GOLDEN
1916
GEORGE HARRY YOUNG
1922 - 1937
-
On Thursday 29th July 1858, Mr. Harvey conveyed 25 young people from Long Stratton in his van to Yarmouth. Starting out at five a.m., they arrived at half-past nine. Some had never seen the ocean before. It was a fine day and there were some picnic parties, trips in a boat, others promenaded on the pier and listened to the band of the Norfolk Militia.
They departed at half-past six with music and song, arriving back in Stratton at two o'clock in the morning.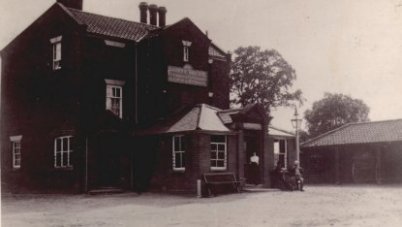 1918
As RAILWAY HOTEL 1851
as SAFETY VALVE RAILWAY INN 1861.

On Saturday 8th April 1865, the trustees of James Harvey, for the benefit of his creditors, sought to recover £14 1s 4d, for beer and cash advanced to Mr. Matthew Smith of Forncett St. Peter. The case broke down when the legal representative for Mr. Harvey stated, for the sake of justice, that he had to declare that he had been entirely deceived by his client!
The result was a non-suit, with costs awarded against Mr. Harvey.

Landlord Robert Keeler provided refreshments at Tharston, `to the men of the late Mr Becket, for the total sum of 2/8d' on 31st August 1896. Mr Barnard paid the sum at the time.
43 barrels of beer sold in final year of trading -
plus 22 (barrels) of bottled beer.
DEMOLISHED by November 2010