Licensees :
-
ROBERT RUSH
age 57 in 1851
& cooper
1846 - *1856
SAMUEL SPINKS
age 62 in 1861
by 1858
HENRY MASSINGHAM
& butcher - age 27 in 1881
(House wrongly described as KINGS Head 1883)
16.12.1878
ROBERT PALMER
& carrier
age 36 in 1891
15.10.1883
HENRY ROBERT PALMER
20.07.1914
GEORGE DONALD DACK
03.06.1929
ALBERT GEORGE COSSEY
Died December 1937 - age 32
17.06.1935
KATE MARY COSSEY
20.12.1937
EDWARD GRIMES
14.02.1938
EDWARD ROBERT DOUGHTY
08.12.1939
ROBERT JOHN CARR
03.11.1947
ALBERT JAMES RUTLAND
21.10.1957
HAROLD FREDERICK REVELL
11.02.1963
COLIN A ROWE
1981 - 2002
JULIAN BRAY & MORAG IRVING
2002 - 2004
-
01.03.2004
DARREN & CLAIR EMMETT
c2005
ALAN TARRANT &
JENNY ADAMS
07.05.2007
SAON & LOUISE KIRK
May 2016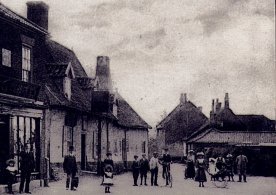 1905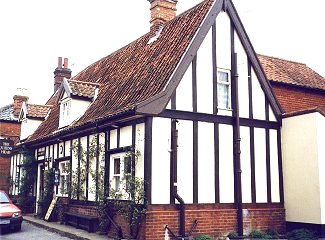 March 1998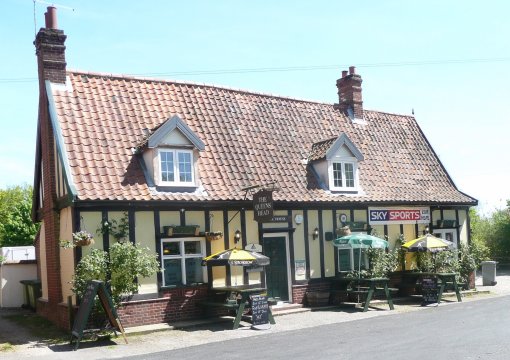 June 2010

Lot No. 30 in the sale of the estate of John Morse, held 8th & 9th September 1847. This property (Listed as a Beerhouse) included :-
Large Yard, Stable, Gig House & Coopers Shop, Extensive Garden & piece of arable land; Plus 7 substantial built Cottages or Tenements adjoining : Copyhold to the Manor of Foulsham.

For Sale by Auction Monday 13th March 1848
In occupation of Mr. Robert Rush.
(Also 4 Cottages standing behind the public house.)

For sale by auction 7th July 1858, then in occupation of Samuel Spinks. Sale at The Crown, Swaffham.

Offered again for sale Wednesday 18th August 1858. Described as Beer-house containing two Parlours, Tap-room, and three Bed-rooms. A Yard with Stable and Gig-house, and a piece of Land planted as a Garden, containing altogether upwards of One Acre. Then in the occupation of Mr. Samuel Spinks, and his under-tenants.

Full licence granted upon removal from
Worstead WHITE HORSE, January 1957.

(Up to 2004 - Still had fine acid etched windows showing the S&P trade mark with the words
SMOKE ROOM on one and PUBLIC BAR on another.
SADLY ALL GONE BY 2005)



Robert Rush is given at the Greyhound in 1836 and at an un-named house 1845.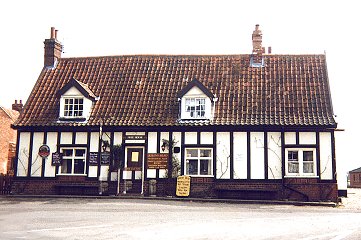 1996
Closed May 2017 following a fire in the utility room.
Re-opened weekend of Saturday 3rd February 2018.