Licensees :
-
WILLIAM TURNER
by December 1780 to at least October 1785
JOHN BLANCHFLOWER
(Died September 1826 - age 75)
1789 - 1794
THOMAS OLLEY
by mid 1813 to October 1820
JOSEPH KEMP
1830 - 1839
THOMAS FARROW
age 50 in 1851
* 1841 - 1851
ELMER POOLEY
1854
J. TUCK
See opposite
05.1854
SAMUEL BREWSTER
1855 - 1856
THOMAS FALLOW
1856
JOHN CHAPMAN BURGIS
1858
ELIZABETH BURGESS
widow - age 66
1861
WILLIAM HENRY WILLIAMS
& farmer
age 53 in 1871
by 1865
GEORGE WILLIAM CARTER
age 35 in 1891
17.06.1889
ALFRED DOUGHTY
10.07.1899
FREDERICK DYKE
age 33 in 1901
18.07.1901
HENRY ALFRED JOHNSON
13.07.1908
WILLIAM ELLIOT
19.07.1909
CHARLES EDWARD BROWNE
25.07.1910
ROLAND BAILLIE
01.03.1915
JOHN BIRD
01.05.1916
GEORGE TANN
09.09.1926
ELIZABETH TANN
12.02.1934
THOMAS W WEBSTER
26.03.1934
GORDON JAMES GEORGE
21.09.1936
CHARLES JOHN JEFFERIES
24.09.1945
CHARLES NOEL THOMAS HAY
01.12.1952
PETER W. ARTHURTON
18.04.1955
JACK LAWRENCE SPARKES
(Brewery Representative)
07.09.1959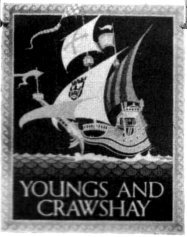 The sign c1936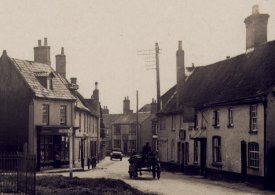 1930
Established 1732 according to an advertisement dated 1909.

William Turner, late Servant to John Slaney Esq. informed his friends that he had taken the house, in an advertisement dated 16th December 1780.

Parson Woodforde and other clergy dined here 1788 and 1789.
The menu on the latter occasion was for 21 people and included -
`Whole Cod-Fish with Cockle Sauce, boiled breast of Veal and Oyster Sauce, hashed Calfs Head, Ham, boiled and roast Beef, a Leg of Mutton boiled. Pies and Puddings etc.' A Quarter of roasted Lamb was also provided. There is no mention of vegetables.
The meal cost three shillings a head and was described as very excellent and the innkeeper, Blanchflower was "very civil."

The valuable Household Furniture and live stock of Mr. Thomas Olley, at the Ship inn, (who had engaged a farming concern) was offered for sale by auction Saturday 7th October 1820. Also a straw-cutting engine, with extra crank.

A Ball commenced here on the evening of Tuesday 18th February 1840, with dancing to commence at Eight o'clock. Admission for Ladies being 5s and 7s for Gentlemen.

Offered to let by Mr. Bidwell,14th July 1841 along with Two Pightles of Land.

In 1842 the sign was described as ` a lettered sign-board following the prevailing custom of modern times, which had replaced a painted representation of a ship under sail, after the model of a man-of-war in the reign of William and Mary, which conveyed by no means a bad idea of what such a vessel was at that period.'

Although Mr. Elmer Pooley is given as licensee in the 1854 trades directory, Mr. J. Tuck announced 20th May 1854 that he had taken the Inn.
The leading Merchants, Dealers and Farmers of the neighbourhood having agreed to re-establish the Corn and Cattle Market, every requirement would be provided on Tuesdays for his Agricultural Friends.
A dwelling at 4, St Julian's Terrace, in the parish of St John Sepulchre, Norwich was conveyed 27th October 1855 from Maria Middleton, late Norwich, now of Foulsham, spinster, to innkeeper Samuel Brewster of Foulsham.
Mr Brewster took out a mortgage on the property with the Alliance Benefit Building Society on 1st January 1856.
The property was conveyed to John Benstead Bugg senior and John Benstead Bugg junior, of Brundall, cabinetmakers, on 21st May 1856.

To let from 10th October 1862, with extensive stabling, bowling green and two pightles of land. - Apply to Mr. Bidwell's Brewery.

Copyhold property as document dated 1890 including a long stable, formerly a Skittle Ground, plus 2 acres of land.

As the Ye Olde Ship Inn 1912
The Licence registers record :-
House Closed - Licence not renewed 12th February 1962