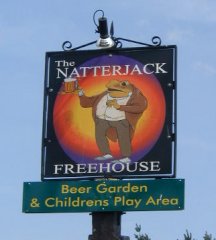 13.04.2003

Private dwelling converted to Public House 1977 and named the SILVER JUBILEE.

Renamed the BULL by new owner July 1998 - Closed September 2000.

Reopened with new owners Friday 1st December 2000 as the NATTERJACK

New owners from 26.03.2003

Possibility to develop site for housing raised at Parish Council meeting July 2006.