Licensees :
-
?
1803
-
SIMON READ CROWE
1836
HENRY HENRY
aged 75 in 1851
& farmer 10 acres
(Henry Henery 1841 & 1856)
Died Q3 1856?
1841 - 1856
WILLIAM YOUNGS
& farmer 10 acres
(William Francis Youngs 1891)
(Died Q4 1907 - age 88)
1858 - 1896
HERBERT PRESS
Age 37 in 1901
(Farmer at Alpington by 1911)
1900 - 1901
GEORGE EDWARD FORD
& farmer & rate collector.
Age 40 in 1911
1904 - 1916
MATTHIAS BASHAM
(Died June 1941 - age 70)
1922 - 1925
....... DUNTHORNE
1929
HENRY CHARLES SYMONDS
Died September 1940 - age 65
1933 - 1937
-
STANLEY WRIGHT
(known as Steptoe - daughter Eta would like to hear of any tales from his times here)
(Stanley died January 1998, wife Mary died 2012)
1960 - 1988
-
LINDA & TED PARKER
August 1996
-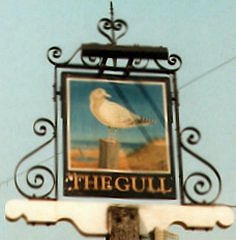 The sign 1997

Image by Steve Shaw

Following a mock battle at Bramerton common 12th October 1803, all the Norwich Volunteers were treated to porter; and the Officers and Gentlemen of the Loddon Troop were handsomely regaled by Captain Smyth, with cold beef and porter.
Participants in the exercise had included 5 Companies of Shropshire Militia, the Loyal Norwich Volunteers, about 200 men of the City of Norwich Volunteer Regiment, the Squadron of Norwich Light Horse and the Blofield troop. There were 4 field-pieces and 2 howitzers. The Loyal Norwich Volunteers, the Loddon and Blofield troops acted as French. The battle ended with the French hoisting a flag of truce.

Mentioned in the 1860 diary of Shephard Taylor.
Listed as SEA GULL 1884
Closure proposed at First Joint Committee Meeting of Bullards and S&P 29th May 1962 - Not Agreed.
Sales given as 34 barrels.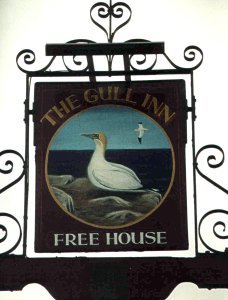 The sign 02.01.2000 - A Gannet !
Image taken by Steve Shaw