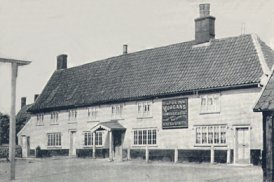 1908

17thC inn - Grade II listed building.
Sold 1774, to stave off bankruptcy, by Charles Simpson of the Diss (Upper) Brewery, along with 12 acres of land .
Given as the
FOX & GOOSE
1774, 1789, 1794, 1836, 1846 & 1863
Morgans sales for 1960 were :
114 barrels of beer
265 spirits
`Considerable restoration' advertised 1989.
CLOSED 2007
Fate to be decided at Breckland District Council Planning Meeting 11th October 2011. Plans to convert to 5 dwellings opposed by community.

February 2013 - Garboldisham villagers said to have reached stalemate with pub owners Wellington Inns. Attempts by the community to purchase the property had been rejected.

House awarded Asset of Community Value status January 2014.