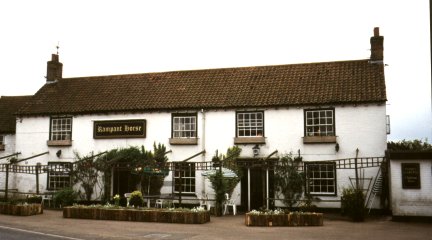 1998
Restaurant added and opened June 1972
A meeting concerning a Presentation to Parliament regarding the Geyton (sic) Inclosure was held at the
BLACK HORSE
on Wednesday 15th March 1808.
For sale by auction Tuesday 3rd June 1845.
A First Rate Road House in the occupation of Mr. Hoare.
Including large Club-room, Parlour, Bar, Store-rooms and Pantries, Kitchen, seven Sleeping-rooms, Wash-house and offices.
For Sale by Auction Friday 28th March 1856.
In the occupation of Ham Flood.
With large Garden, Bowling-green and Skittle Ground. Convenient Cellar, stables, Outhouses and buildings thereto belonging.
All the neat Household Furniture, excellent Featherbeds, Bedding and other Effects of Mr. Ham Flood were to be sold by Auction Thursday 9th October 1856 since he had taken the
SHIP
at Narborough.