Licensees :
-
GEORGE CUTTING
& brewer
Died Q3 1849 - age about 55
1830 - 1847
WILLIAM SMITH
age 60 in 1851
& grazier
1850 - 1856
Miss ELEANOR PORTER
1858
JOHN HAYLOCK
& mail contractor
Died Q3 1878 - age 49
1861 - 1877
THOMAS KING
& horse trainer & dealer
Age 33 in 1881
by 1879
JOHN MAYLE
13.04.1885
JOHN MEDLAR
(Died Q2 1907 - age 67)
15.02.1886
ALFRED GEORGE CODRINGTON
13.11.1893
HARRY KENT
(Died December 1928 - age 69)
05.04.1897
WILLIAM WHITBY
(Died June 1932 - age 80)
10.10.1904
JAMES DANIEL WATSON
(Died December 1961 - age 85)
20.10.1922
JOHN GRIGGS THOMAS
(Died March 1938 - age 58)
03.03.1930
ELLEN THOMAS
07.02.1938
ARTHUR SMART
(Died June 1960 ?)
04.07.1938
HORACE GEORGE LAKE
Died December 1975 - age 65
15.08.1960
Mrs LAKE
1975
DAVID CONYARD
1975 - 1979
KEITH HONEYWOOD
Assistant district manager - Norwich Brewery
1979
-
-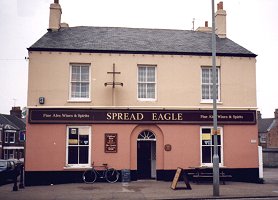 April 1987
Listed 1774
Given as Bowling Green, Gaywood Road 1836.
Transferred into Kings Lynn, Kettlewell Borough,1880
John Haylock passed through the Insolvency Court in 1859 and served six months in Cambridge gaol having paid his creditors some £200 in order to avoid a sentence of up to eighteen months. He fully repaid his creditors some time after being discharged from gaol.

In 1865 & 1875 as as well as being licensee of the SPREAD EAGLE, he is described as Mail contractor to Her Majesty's Government & by special appointment to H.R.H. the Prince of Wales.

In 1866 he had been accused by licensee John Joseph Curtis (SHOULDER of MUTTON, Kings Lynn.) of taking ten sovereigns from his purse. In consequence Haylock took action of slander against Curtis. After a lengthy hearing, with Walker, one of the witnesses for Curtis, being quoted as previously being imprisoned for fraud and the other, Gagen having been previously discharged from the employ of Haylock, the jury found in favour of Haylock.

£25 damages were awarded.