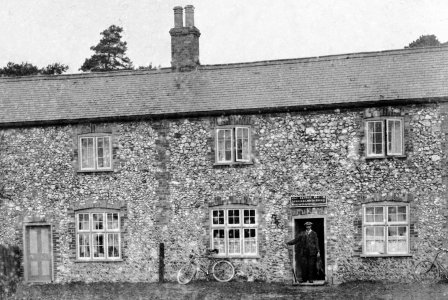 Image thanks to Chris Garrod - his grandmother's Uncle (George Say) stands at the door.

George Say rented the adjoining field and held an annual speed ploughing competition - one way of getting the field ploughed and a boost trade at the same time.

~
Lot No. 32 in the sale of the estate of the late John Morse.
The sale was held 8th & 9th September 1847.
The house was described (1847) as newly built and included Large Garden, Orchard, Plantation, Yard and Stable -
All within an area of 1 Acre 2R 0P.
Described as JESSEP's BEERHOUSE in the1851 census.

A new Spirit Licence was awarded Monday 30th August 1880.
Conveyed with 6 acres from the estate of the late L. S. Bidwell to S. C. Bidwell 30.12.1868.
Valued in document dated 25th July 1889 at £1000, including 6 acres.
Closed by 1908?

By 1911 Thomas Dixon is the occupant and described as a River Keeper - age 61