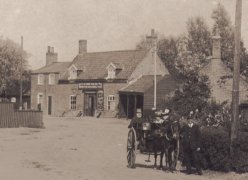 c1916

Advertising `Celebrated Old Highland Whisky & Bass in Corked Bottles - Also Morse's Fine Ales & Double Stout'


The
TUNS
in Loddon & Clavering Register taken 21st September 1789.
Sold by auction 28th April 1852.
Seller being the Beccles Brewery, purchaser Morse & Woods.
Sold for £750.

Confusion department.

Noted in conveyance from Frederick William Farr to Frederick Morse, dated 06.07.1852 as formerly the QUEENS HEAD, previously the HERMITAGE.


Morgans sales for 1960 were :-
92 barrels of beer
20 spirits.