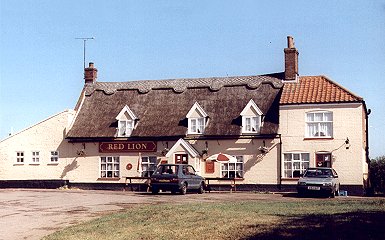 2000
Recorded as the
LION
in Register of Blofield, Taverham & Walsham Hundred licensed houses taken 9th September 1789.
For Sale by Auction Saturday 28th March 1829 on the Petition of a Mortgagee, Commissioners and by a Commission of Bankruptcy issued against Samuel Costerton.
Then in occupation of John Carter who had notice to quit on the 29th September 1829.
On the night of Thursday 13th June 1850, landlord Robert Ives arrived in Gt. Yarmouth with the intention of catching the Rotterdam Packet. Arriving late and missing the steamer, he went to the
ROSE TAVERN
and then on to the
ELEPHANT & CASTLE
seeking lodgings for the night. There were no vacancies available, so accompanied by a girl named Clarke, he was guided to a house of ill-fame, kept by a woman called Harriman. When he awoke in the morning, the girl was still with him, but the £24 in gold and 50s in silver, that he had been carrying, had been taken. Both the girl and the landlady were apprehended by the police.
Local Post Office run from the premises from 1995 until July 2000 when it was stated that ``New Post Office requirements make continuation unviable''.