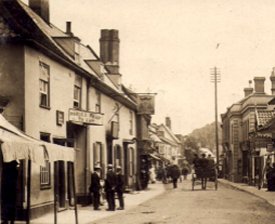 1917


An inn by 1591.
Meetings of overseers held here
21st May 1733, 10th October 1733 and 2nd June 1740.
Offered for sale 18th March 1809.
As the
COLONEL'S CAP
according to Robson 1839,
CARDINAL'S CAP INN
1933
as
CARDINAL'S CAP HOTEL
1937
In 1830 the coach the Star called every morning at 8:20am on route to London. It returned in the evening at 6:00pm
All the neat & valuable Household Furniture of Mr. R. R. Bloomfield were offered for sale by auction Monday, Tuesday, Wednesday and Thursday 6th to 9th October 1845, since he was changing his Residence.

License renewed Friday 16th September 1949 and an application was made by Messer's. Lacon & Co. to have a clubroom and headquarters for the Harleston and District British Legion in a building at the rear of the main premises. There would be a bar for the convenience of Legion members, however the general public could not be excluded. The application was perhaps assisted by the Clerk to the Magistrates who was also chairman of the Legion Branch.
The alterations and improvements were approved on Friday 22nd September 1949.