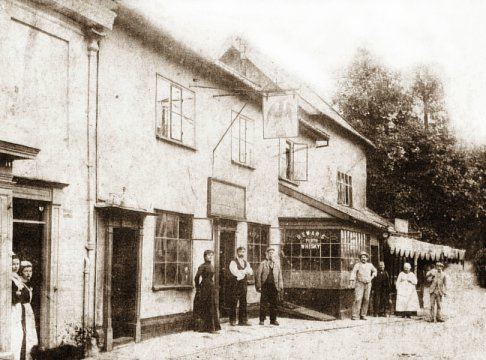 c1900 - Photograph thanks to Stuart Bowell.

Referenced as having been closed in 1904 when, at the January 1909 Licensing Sessions, the brewery was contending the proposed closure of the THREE HORSE SHOES.

However :-

Licence renewal deferred at the sessions held Friday 10th February 1905 on the grounds of redundancy.
Tenant to attend next meeting to state why the licence should be renewed.

At the Harleston Brewster Sessions held Friday 9th February 1906 it was heard that the licence had been referred for Compensation in 1905 and the licence had been extinguished by the Quarter Sessions, however trade was still being carried on.
In consequence the licence was renewed.
Also known as the SPREAD EAGLE ?

Previously the ROYAL OAK to c1896 ?