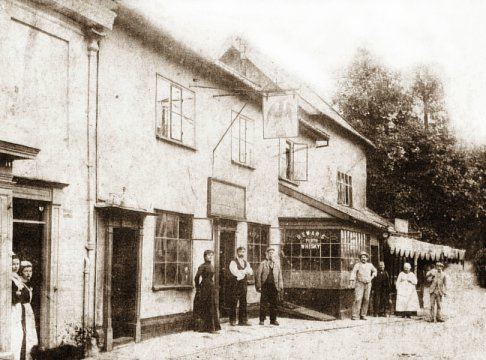 c1900 - Photograph thanks to Stuart Bowell.

Referenced as having been closed in 1904 when, at the January 1909 Licensing Sessions, the brewery was contending the proposed closure of the THREE HORSE SHOES.

However :-

Licence renewal deferred at the sessions held Friday 10th February 1905 on the grounds of redundancy.
Tenant to attend next meeting to state why the licence should be renewed.

On Friday 30th June 1905 it was heard that the Renewal Authority had provisionally renewed the licence, but were to refer it to the compensation authority on the grounds that there were an excessive number of licensed houses in proportion to the population, one licence to every 133 persons. The entrances were so arranged as to conduce secret drinking and no other house in Harleston was liable to the same objection on the ground of either sanitary accommodation, size of rooms or general convenience.
It was said that the sanitary accommodation was the worst of any house in the centre of Harleston.
For Colchester Brewery Company Ltd., it was said that a fine trade was being carried on but they would do all necessary to modernise the property in order to retain the licence.
The Committee were of the opinion that the licence must be refused.

At the Harleston Brewster Sessions held Friday 9th February 1906 it was heard that the licence had been referred for Compensation in 1905 and the licence had been extinguished by the Quarter Sessions, however trade was still being carried on.
In consequence the licence was renewed.
Also known as the SPREAD EAGLE ?

Previously the ROYAL OAK to c1896 ?