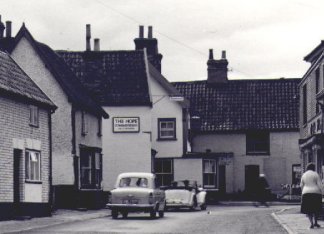 c1960
HOPE & ANCHOR
1854
A notice published 8th February 1851 advised that William Clear Cann, Wine & Spirit Merchant, had on the 27th January 1851, assigned all his Personal Estate and Effects to William Mann, merchant of Bungay and James Barnaby of Mendham, Gentleman.
The HOPE INN was to Let with Immediate Possession. A Free House with excellent cellars and ample internal comfort and convenience.........

Offered To Let 25th August 1866.
An Old Established, Fully Licensed and Free Public House.

On Monday 9th September 1935, Gilbert Charles Riches was discovered drinking liquor on licensed premises at 2:50pm, a non-permitted hour. Constable Lines had entered the premises to give out some posters regarding weights and measures and had found licensee Chipperfield at the bar along with Riches, Taffy Scarff and Jack Barber. Two half pint mugs of beer stood on the bar and Riches drank one of them. Checking that the mug had contained beer, PC Lines started to take notes and was then assaulted by Riches. The constable threw the accused to the floor and left the house to call for assistance. Soon after Riches was found in the Market Place, he was arrested after another scuffle, with the aid of Sergeant Cullum.
Returning to the Hope Inn to retrieve his pocket book and helmet the landlord denied any knowledge of their wherabouts.
Before the magistrates on Friday 13th September Riches was fined 10s for drinking out of hours and £2 for the assault. For licensee Chipperfield, a charge of aiding and abetting was not proved, but he had not taken sufficient care to prevent the events, or to assist the constable in his duty. He was fined £3 with one week in which to pay.
It appears that the helmet was never discovered.
Mr. Chipperfield was replaced at the inn within one month, after a service of nine years.

December 1945 - American Servicemen presented eggs and sweets as a tribute to the inhabitants of Harleston and the surrounding villages for their hospitality. The tribute was received by Mr. & Mrs. Tom Bell at the Hope Inn.

20 barrels of beer sold in the year prior to closure.
It was reported at a meeting 29th October 1964 that the house had `temporarily closed' since last meeting of 22 July 1964.
Last licence granted 02.02.1967
But no evidence found of the house being open between 1964 and 1968

Demolished.